Yamagata is literally a mountain country, as 72% of its land is covered by woodland including Ou Mountains and Asahi Peaks. 6 mountains in Yamagata, Zao, Gassan, Chokai, Azuma, Iide, and Asahi, are selected for 100 Best Mountains in Japan; native Japanese beech grove extends to 150,000ha.
 Rich mountains and abundant water form a lot of gorges and waterfalls, then the brilliant seasonal change adds beauty to them. It is said that there are approximately 2,500 waterfalls (more than drop 5m) in the whole country, but Yamagata Prefecture is King Taki country of the best number in Japan of waterfall having near waterfall of 230 to 10%.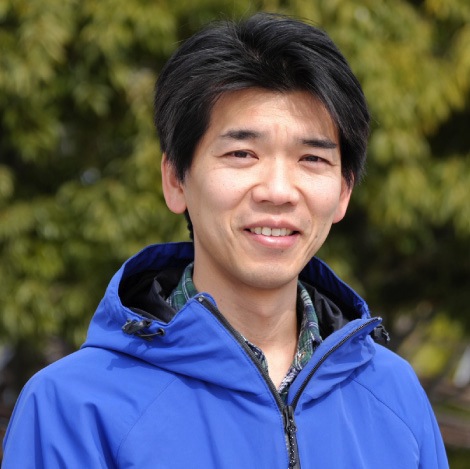 Waterfall Enthusiast Kenichi Takeda
A single word "waterfall" cannot explain everything because no two waterfalls are exactly alike and each has interesting features.
 I started visiting waterfalls around in 2004 or so. I took scenic photos at first when I bought a DSLR; then, before I knew it, waterfalls have become my main subject of shooting. I have visited about 170 waterfalls in the prefecture so far. The number rises to more than 480 if waterfalls in other prefectures included.
 The first thing on the list of the charms of waterfall should be its beauty; I could watch water falling forever. Then, the non-ordinary location makes waterfalls even more special: Surrounded by rocks and trees, water keeps on falling with the echoes of splash…this is not an everyday situation at all. We could even say that it's a whole different world where we can refresh body and soul, leaving everyday distress behind by just being.
 I don't know why but a huge waterfall and its stream make me feel so small that my daily stress seems to be nothing to worry about. A single word "waterfall" cannot explain everything because no two waterfalls are exactly alike and each has interesting features. Even the same waterfall may look different when seen at the different angle. If possible, I recommend you to take a look at a waterfall from various angles. You might be able to spot a rainbow over the waterfall under certain conditions, which must be especially beautiful.
 Please watch your step by all means when you visit waterfalls. Waterfalls are always located at waterfront and thus, the trails might be muddy and/or slippery. It's a good idea to bring shoes with non-slippery soles or rubber boots, and avoid to wear sandals or high-heeled shoes which might make you trip over and injured. Also, it's nice to pack towel and extra clothes for peace of mind just in case you get wet.

Explanation of icon
[degree of difficulty]
~

Mark regardless of degree of difficulty in the case of sightseeing of precaution there is.
Please confirm other columns in page.
[form of waterfall]
choku*

Cascade

funki*

keiryu*

senryu*

katsu*
We explain precaution of form and waterfall circulation of waterfall in detail in page of "guide of waterfall"
Near by
There is parking lot

More than 30m of drop there is
Big waterfall

Guided tour
Available

Of winter period
Sightseeing is OK

Fine-view point
Available

Details map
Available

Name

Location

Information

Yonezawa-shi larger section of a village Seki


Yonezawa-shi


Sekine, Yonezawa-shi (the neighborhood of feather Sekine, Kurokawa village)


Yonezawa-shi larger section of a village Seki


Namegawa Onsen bottom


Yonezawa-shi larger section of a village Seki


Yonezawa-shi larger section of a village Sumomoyama


Teraizumi, Nagai-shi, Yamagata grounds


Kotaki, Nanyo-shi


Kotamagawa, Oguni-machi, Nishiokitama-gun (the Tamagawa upper reaches)


Ogunikosakamachi, Oguni-machi


Yonezawa-shi larger section of a village Osawa


Kotaki, Nanyo-shi


Takahata-machi larger section of a village Niijuku


Ogunikosakamachi, Oguni-machi


Kojirakawa, Iide-machi grounds (in Mt. Tengu-zan mountain trail)


Sekine, Yonezawa-shi (the neighborhood of feather Ichinono, Kurokawa village)


Yonezawa-shi (old Namekawa mine ~ Yakushi Mori divergence)


Yonezawa-shi (intervals river)


Juo, Shirataka-machi, Nishiokitama-gun district (kenjiheifukin)


Juo, Shirataka-machi, Nishiokitama-gun district


Oguni-machi, Nishiokitama-gun larger section of a village Kotamagawa (the neighborhood of Ide Mountain Range stone fall swamp)


Name

Location

Information

Kamihozawa, Yamagata-shi grounds


Yamagata-shi larger section of a village Risshaku-ji Temple typeface Hakusan grounds


Yamagata-shi larger section of a village Risshaku-ji Temple typeface Hakusan grounds


Yamagata-shi larger section of a village Risshaku-ji Temple typeface Hakusan grounds


Yamagata-shi larger section of a village Risshaku-ji Temple typeface Hakusan grounds


Yamagata-shi larger section of a village Risshaku-ji Temple typeface Hakusan grounds


Yamagata-shi larger section of a village Risshaku-ji Temple typeface Hakusan grounds


Asahi-machi


Narayama, Oe-machi district


Oe-machi (Jintsu-kyo Gorge)


Oe-machi (Jintsu-kyo Gorge)


Taruishi, Murayama-shi


Yamanouchi, Murayama-shi


Yamaguchi, Tendo-shi (high Takiyama Fudo-son )


Kanonji, Higashine-shi


Otaki, Sekiyama, Higashine-shi


Kanonji, Higashine-shi


Oaza-ginzanshinhata, Obanazawa-shi


Shobu, Kaminoyama-shi grounds (reed Cali sawahokarihomakijo)


Upper swamp of Yachi, Kahoku-cho character waterfall


Shobu, Kaminoyama-shi grounds (sedge commonplace composition close)


Inosawa, Higashine-shi


Oisawa, Nishikawa-machi


Yamagata-shi larger section of a village Risshaku-ji Temple typeface Hakusan grounds


Yamagata-shi larger section of a village Risshaku-ji Temple typeface Hakusan grounds (colored leaves upper part of a river style)


Obanazawa-shi Mt. Gosho-zan


Kamimine, Yamagata-shi swamp (Zao dam upper reaches Nabekura Fudo-son )


Zao, Kaminoyama-shi boudaira grounds


Zao, Kaminoyama-shi boudaira grounds


Taruishi, Murayama-shi


Taruishi, Murayama-shi


Name

Location

Information

Swamp district of Okura-mura waterfall


Swamp district of Okura-mura waterfall


Tozawa-mura larger section of a village Furukuchi


Shinjo-shi larger section of a village Kanazawa


Sasunabe, Mamurogawamachi, Mogami-gun grounds (swamp district of Yachi)


Otaki, Mamurogawa-machi grounds (the waterfall branch line forest road side on the third floor)


Sakegawa-mura larger section of a village Niwazuki


Sakegawa-mura, Mogami-gun University Ashisawa


Sakegawa-mura, Mogami-gun University Ashisawa (larger section of a village Magarigawa)


Kaneyamamachi larger section of a village Taniguchiginzan


Nagasawa, Funagata-machi


Shinjo-shi larger section of a village Hagino Sat (Mount Kamuro mountain trail)


Shinjo-shi larger section of a village Hagino Sat (Mount Kamuro mountain trail)


Shinjo-shi larger section of a village Kanazawa


Shinjo-shi larger section of a village Hagino Sat (Mount Kamuro mountain trail)


Sasunabe, Mamurogawamachi, Mogami-gun grounds (the Takasaka dam upper reaches)


Sakegawa-mura, Mogami-gun University Ashisawa (larger section of a village Magarigawa)


Sakegawa-mura, Mogami-gun University Ashisawa (larger section of a village Magarigawa)


Furukuchi, Tozawa-mura Inohana


Tsunokawa, Tozawamura, Mogami-gun


Otaki, Mamurogawamachi, Mogami-gun grounds (the neighborhood of JR Otaki Station)


Name

Location

Information

Kaminagawa, Tsuruoka-shi


Kitaaosawa, Sakata-shi


Haguromachitouge, Tsuruoka-shi (Haguro-san Five-storied Pagoda neighborhood)


Tamugimata, Tsuruoka-shi


Shimokurokawa, Sakata-shi


Omori, Masuda, Sakata-shi


Yoshide, Yuza-machi


Yoshide, Yuza-machi


Shiraishinden, Yuza-machi, Akumi-gun (Takase-kyo Gorge)


Kitamata, Sakata-shi Okuyama grounds


Matsune, Tsuruoka-shi


Yuatsumi, Tsuruoka-shi


Yuatsumi, Tsuruoka-shi


Yuatsumi, Tsuruoka-shi


Koesawa, Tsuruoka-shi (Mt. Maya-san)


Yuatsumi, Tsuruoka-shi


Atsumigawa, Tsuruoka-shi


Yoshide, Yuza-machi


Yoshide, Yuza-machi


Shiraishinden, Yuza-machi, Akumi-gun


Shiraishinden, Yuza-machi, Akumi-gun (Takase-kyo Gorge)


Shiraishinden, Yuza-machi, Akumi-gun (Takase-kyo Gorge)


Nishiaraya, Tsuruoka-shi character Yanagisawa


Koesawa, Tsuruoka-shi (Mt. Maya-san)


Nishiaraya, Tsuruoka-shi character Yanagisawa