Trip to Yamagata| Sightseeing
Seeding cherry tree of Izu University honorific title of a Japanese god
As we sprinkled species, we are told that cherry tree begins to bloom with "seeding cherry tree".
We avoid fire prevention, theft, and, in Izu Imperial power emperor company of Miyajuku Sakaemachi got close to as God of easy delivery, there are age of a tree approximately 700 years and edohigan cherry tree of done sacred tree.
Lighting up is performed by local volunteer every year in season of flower.
Izu Gongen festival of 2018 is Sunday, April 22
-*-*-*-*-*-*-*-*-*-*-*-*-*-*-*-*-*-*-*-*-*
Wednesday, April 11, 2018 flowering
We light up and start (from 19:00 to 22:00)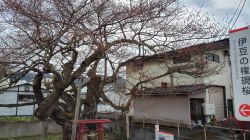 We confirm place in Google map
Information
■

Name

Seeding cherry tree of Izu University honorific title of a Japanese god

■

Location

Miyajuku, Asahi-machi (Sakaemachi)
Access Map
Link
[Last updated] April 19, 2018

Welcome to the Yamagata Prefecture
Yamagata Tourism Information