kushibiki hot spring Yu town Business stop (until March, 2019)
くしびきおんせん ゆーたうん
We are proud of source kakenagashiattamarinoo hot water

The first floor can enjoy water-clear hot water and sauna or hot spring massage on chestnut brown noattamarino hot water, the second floor including iron content.
In addition, the second-floor bathhouse views Mt. Gassan, Mt. Chokai-san and we want clear stream Akagawa and can enjoy scenery of scenic beauty.

Information
■

Name

kushibiki hot spring yu ~ Town business stop (until March, 2019)

■

Location Sanzengari, Tsuruoka-shi character Kiyokazu 159


■

Phone number

0235-57-4313

■

Business Hours

※We are going to restart business resumption during stop for Naka now in March, 2019 during construction period

■

Access Is car than JR Tsuruoka Station; 15 minutes
Is car than Yamagata Expressway Shonai ASAHI IC; 20 minutes
Is car than Nihon-kai Tohoku Expressway Tsuruoka west IC; 25 minutes


■

Parking lot 110 lots available


■

Remarks

※Please confirm Details such as rate, business hours from official WEB site.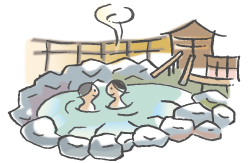 Search of hot spring spot
Welcome to the Yamagata Prefecture
Yamagata Weather Forecast