Oku-Oe Yanagawa Hot Springs
おくおおえやながわおんせん
Sound of the murmuring to be fragrant, and to whisper green dazzle to of flower
Blessing ... of hot water which also unties all
"Oku-Oe Yanagawa Hot Springs"
Into hot water of glen where the name is refined
Do you not come to warm?
The finest comfort prepares
It is also called "Netsu-no-Yu" and is superior in thermal effect.
It is effective in arteriosclerosis, chronic dermatopathia, and drinking is possible, too, and there are many superior effects.
If take open-air bath full of open feeling while looking at flower hydrangea of town; the Land of Happiness feeling.
Footbathing was established other than day trip bath newly, too.
The accommodations become substantial contents, too.
Soba Making Experience is popular, too.
Information
■

Name

Oku-Oe Yanagawa Hot Springs

■

Location

1502-3, Yanagawa, Oe-machi

■

Phone number

0237-64-2151

■

FAX number

0237-64-2156

■

Access

It is 40 minutes by bus from JR Aterazawa Station

■

Parking lot

For 70

■

Contact information

Oku-Oe Yanagawa Hot Springs

■

Others

※Please refer for Details such as rate, business hours toward the direct facility.
Link
[Last updated] November 19, 2018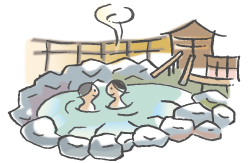 Search of hot spring spot
Welcome to the Yamagata Prefecture
Yamagata Weather Forecast