Iide Hot Springs Iitoyo mountain cottage
いいでおんせん いいでさんそう
Natural hot spring Iide Hot Springs
 Accommodation nearest the source feeling warmth of Nature.
matagi finds that bear heals wound with hot water in old days and is informed Iide Hot Springs when we did open hot water.
Many people visit rather hot bath which is close to the source from mountain climbing visitor and the prefecture outdoors and are got close to beautiful nature.

※It is closed during period for the winter season.

Information
■

Name

Iide Hot Springs Iitoyo mountain cottage

■

Location

Kotamagawa, Oguni-machi

■

Phone number

090-5234-5002 (satellite carrying)

■

Access

Is car than Oguni Station; 50 minutes

■

Contact information

oguni white Mori

■

Remarks [spring quality]
Sodium calcium, chloride hydrogen carbonate, sulfate hot spring
[effect]
Stomach and intestines disease, injury aftereffects, rheumatism, gout, chronic woman's illness

■

Others 18 guest rooms
69 seating capacity
Bathroom man and woman bathroom (natural hot spring)
     There is "footbathing, too".
★Possible day trip bath (500 yen)


Link
[Last updated] January 31, 2017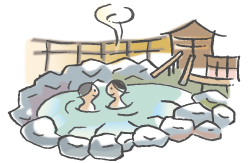 Search of hot spring spot
Welcome to the Yamagata Prefecture
Yamagata Weather Forecast