Uesaka pension
うえさかぺんしょん
≪Zao Heights Bodaira district≫
Zao bodaira highland can enjoy the four seasons from the fresh green to colored leaves among abundant nature let alone winter ski in spring in ~ autumn. We offer hospitality with handmade home-cooked meal of menu full of variations that you can enjoy toward the consecutive stay.
As for the homemade jam, popular (for ※ home brew, we may not prepare)
Uesaka pension is accommodation where there is staying with pet.
Information
■

Name

Uesaka pension

■

Location

Zao Bodaira-kogen, Kaminoyama-shi

■

Phone number

023-679-2793

■

FAX number

023-679-2795

■

Remarks [pet about staying]
As you want all customers to spend happy time, please look after the following things by all means.
・We do rabies inoculation finished, vaccination.
・We get a grip by discipline of restroom.
・mudabo eosasenai.
・We finish shampoo rinse (the removal of chisel and tick) before accommodation.
・We do not pick up on the bed.
・We attach reed on movement in hall by all means.
・When we have polluted, we report immediately.
※In addition, please feel free to contact if you have some question.

Link
[Last updated] February 05, 2018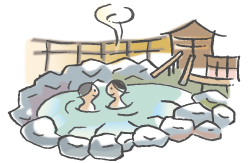 Search of hot spring spot
Welcome to the Yamagata Prefecture
Yamagata Weather Forecast