Hotel which nestles on the small hill
Hotel which nestles on the small hill which can overlook Zao hot-spring resort and slope.
Location where is perfect as start point of the magnificent Zao entire temple.
It is simple, and the hall takes in the world of fairy tale and is a new type of resort RYOKAN which mixed witty sense of resort hotel and relaxation of hot-spring hotel.
Information
■

Name

Hotel Oak Hill

■

Location

756, Zaoonsen, Yamagata-shi

■

Phone number

023-694-2110

■

FAX number

023-694-2105

■

Access From Yamagata Station bus 45 minutes
From Yamagata zao I.C. car 20 minutes via King Nishikura Heights line

■

Remarks [pet and staying one]
Of family who is important for pet in this hotel think that is alone. We would appreciate your staying together as possible. We decide the next rule. Please confirm.

●Please consider mudabo eoshinaiyo in hall.
 It should be small dog (to 5kg) that discipline such as pee is accomplished.
Because of one doggy, we take accommodation charges 1, 000 yen (tax-excluded).

●We would like cage or hug on movement in hall by all means.

●Soundproofing with the next room is not complete.
When customer of the next room might be troubled, we may have you refrain from accommodation.

●You cannot be in restaurant, restaurant.
 We hope that the staff can cope as we prepare futon between dinner.

●We demand the actual expenses by any chance when indoor facilities, equipment are damaged, and they are damaged.    
   

●Pet goods do not prepare at all. Take necessities.

Link
[Last updated] February 06, 2015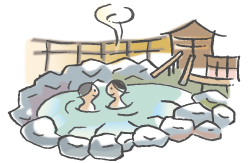 Search of hot spring spot
Welcome to the Yamagata Prefecture
Yamagata Weather Forecast