We are proud of rich hot water with full of effects
Accommodation which is full of spa atmosphere in the hot-spring resort center of excellent hot water, Zao Hot Springs.
We have customer by heartfelt dishes and warm hospitality.
Information
■

Name

Yoshida-ya inn

■

Location

13, Zaoonsen, Yamagata-shi

■

Phone number

023-694-9223

■

FAX number

023-694-9404

■

Access From Yamagata Station bus 45 minutes
From Yamagata zao I.C. car 20 minutes via King Nishikura Heights line

■

Remarks [pet and staying one]
Inn which is nice for customer of pet companion.
We can travel with important pet! This is pleased with very much!

●It is limited to indoor small dog (to around 10 kg in weight), cat which bark, and do not perform waste.
●Please bring meal, restroom cage.
●Movement in hall would like hug or cage.
●Pet becomes caretaker on meal in room.

■

Others

※For further information, please check our web site.
Link
[Last updated] November 28, 2014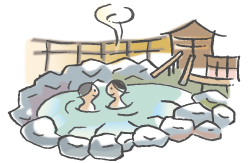 Search of hot spring spot
Welcome to the Yamagata Prefecture
Yamagata Weather Forecast