Mamurokawa bairi-en Hot Spring
まむろがわおんせんばいりえん
Accommodation of Yamashiro-like view
We redecorated bathroom entirely in December, 2012 and were reopened. View of Mt. Gassan, Hayama to put stone with luxurious nature stone, and to expect from bath, Bihada-no-Yu and said hot brine spring, panorama, the distance spreading under eyes. It is sure that he/she lets you loose from daily life, thing. We offer seasonal taste to guest seasonally and have you please. Come by all means.
Information
■

Name

Mamurokawa bairi-en Hot Spring

■

Location

894-2, Hiraoka, Mamurogawa-machi, Mogami-gun

■

Phone number

0233-62-2373

■

FAX number

0233-62-2147

■

Access

Bus ten minutes town-managed than the Mamurogawa station square

■

Parking lot

100 lots available

■

Contact information

Mamurogawa-machi

■

Remarks During summer (from May to October), you can enjoy truck train.
But service time is fixed at 15:00 at 13:00 at 11:00 of Saturdays, Sundays, and holidays.

The accommodations capacity: 40 people
Four cottages are adjacent.
[spring quality] Sodium chloride hot spring
[effect] Drill wound, burn, chronic dermatopathia, weak child, chronic woman's illness

■

Others

※Please confirm Details such as rate, business hours from facility homepage.
Link
[Last updated] May 10, 2018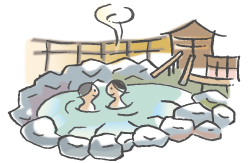 Search of hot spring spot
Welcome to the Yamagata Prefecture
Yamagata Weather Forecast