Kaminoyama Hot Spring
かみのやまおんせん
Hot spring castle town where wine and yukata match
Is proud of the history of open hot water more than 560 years; "Kaminoyama Hot Spring."

It is old, and this place that prospered again as post town of Dewa way as castle town of Kaminoyama-jo Castle is hot spring resort where taste of castle town still breathes.

In addition, in the soil where this ground among mountains is rich in in every direction including Zao Peaks and the long daylight hours, it is production center of grape for wine of comfortable Japan eminence to heat and cold difference in the night and day.

We attract attention as "wine town", and, in "Kaminoyama Hot Spring," does lunch not spend sightseeing in Zao and castle town walk, such a holiday to enjoy hot spring and wine at night?

Information
■

Name

Kaminoyama Hot Spring

■

Location

Kaminoyama-shi

■

Phone number

023-672-0839

■

Contact information

Sightseeing product association of Kaminoyama-shi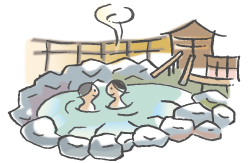 Search of hot spring spot
Welcome to the Yamagata Prefecture
Yamagata Weather Forecast