Trip to Yamagata| Hot springs
Kaminoyama Hot Spring (Shin-Yu, Yumachi, Tokamachi, Hayama, Takamatsu, Kawasaki)
かみのやまおんせん
Historical hot-spring resort that reached open hot water 555 years
Kaminoyama Hot Spring
Hot-spring resort full of travel emotions is clogs and yukata; stroll

For legend that healed tibia that one crane was damaged with hot water, we are called another name "Tsurusune-no-Yu Hot Springs".

Hot-spring resort consists of 6 districts of Shin-Yu, Yumachi, Tokamachi, Hayama, Takamatsu, Kawasaki, and there are seven public bathhouses.

It is castle town including thin slope, samurai residence, oriental lamp and bonfire around the Kaminoyama-jo Castle and will take a walk through cityscape which prospered as post town with yukata figure. If we sound clogs and make a detour, we take a short break by free footbathing (five places).
Information
■

Name

Kaminoyama Hot Spring (Shin-Yu, Yumachi, Tokamachi, Hayama, Takamatsu, Kawasaki)

■

Location

6-26, Motojonai, Kaminoyama-shi

■

Phone number

023-672-1456

■

Access Than JR Kaminoyama-Onsen Station a 15-minute walk (Shin-Yu, Yumachi, Tokamachi)
By taxi than JR Kaminoyama-Onsen Station five minutes (Hayama, Takamatsu, Kawasaki)

■

Contact information

Kaminoyama Hot Springs inn association

■

Remarks [characteristic]
Smell: None
Color: Transparence
[spring quality]
Sodium calcium - chloride, sulfate hot spring
[effect]
Drill wound, burn, chronic dermatopathia, neuralgia
[senon]
62.4 degrees Celsius
Spot List
Access Map
Link
[Last updated] December 03, 2013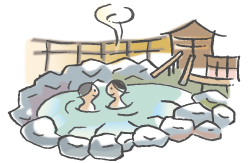 Search of hot spring spot
Welcome to the Yamagata Prefecture