... completely disappeared as for the hard illness
Mysterious mineral spring which Basho soaked in
We are told that Jikaku Daishi found Akakura Onsen of quiet, simple atmosphere in the middle of countries pilgrimage.
In addition, Hojin-no-Ie (old border agent's residence) which Basho Matsuo comes, and comes up in Oku-no-Hosomichi is famous.

Hot spring of the atmospheric foot of a mountain that clear stream of Oguni-gawa River flows among Yomoyama in hot-spring resort and hears sound of Kajika.
We have an effect of "general indication" to be common to hot springs such as neuralgia, rheumatism, stiff shoulder, low back pain, relieving fatigue.
As unique "indication according to spring quality," we have a good reputation for "making of fair skin" "healing of wound".
Information
■

Name

Akakura Onsen

■

Location

817-1, Tomizawa, Mogami-machi, Mogami-gun

■

Phone number

080-1660-4083

■

Access

From Rikuu East Line Akakura-Onsen Station bus eight minutes

■

Contact information

Akakura Onsen tourist association

■

Remarks The hot spring total number: 19
The number of the accommodations: 12
Accommodation capacity (group): 1,600
[spring quality]
Sodium calcium - sulfuric acid hot spring
[effect]
Neuralgia, cut, burn, poor circulation, relieving fatigue,
Chronic dermatopathia, chronic digestive organ illness

Link
[Last updated] July 05, 2017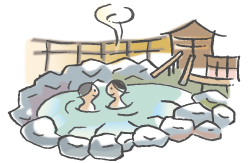 Search of hot spring spot
Welcome to the Yamagata Prefecture
Yamagata Weather Forecast