It prospers as post town of Oshu Highway
Town of hot water that there is feature that was spa once
Yoshitsuna Minamotono discovers Akayu Onsen in 1093 (Kanji 7).
Atmospheric hot spring which is bright with fruit and flower and Ideyu Hot Springs, health of lake.
Footbath "Akko Poppo-Yu Hot Springs" came out in 2003.
 
Famous spot of cherry tree, hot-spring resort in the foot of Eboshiyama Park. Younger brother justice rope of Hachimantaro Yoshiie is said to have discovered, and wound is cured when samurai hurt by war soaks in hot water and reaches when accompanied by the name of Akayu because hot water is crimson and was dyed. Uesugi feudal lord came in Era of Feudal Clans, too and prospered as palace hot water.

Do you not make spa luxury while searching for good old cityscape at village of wine?
Information
■

Name

Akayu Onsen

■

Location

Akayu, Nanyo-shi

■

Phone number

0238-43-3114

■

FAX number

0238-43-7520

■

Access It is bus five minutes from Akayu Station
It is a 20-minute walk from Akayu Station
It is 50 minutes by car from Tohoku Expressway Iizaka, Fukushima IC

■

Contact information

Akayu Onsen inn cooperative

■

Remarks [characteristic]
Smell: Hydrogen sulfide smell
Color: Transparence
[spring quality]
fukumi*o - sodium calcium - chloride hot spring
[effect]
Drill wound, burn, chronic dermatopathia, neuralgia
senon 59.0 degrees Celsius
Link
[Last updated] April 13, 2017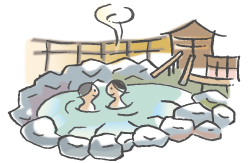 Search of hot spring spot
Welcome to the Yamagata Prefecture
Yamagata Weather Forecast