"Gassan Asahi Guide Assosiation"
がっさんしづおんせん
It is out resort surrounded by beech virgin forest of the Mt. Gassan foot of a mountain
Gassan Shizu hot spring is strong in salt, and body warms from core and is "Bihada-no-Yu" that is kind to atopy.
Feel that was cheerful in season that was warm in cold season, and was hot.
In magnificent nature of Mt. Gassan, it is simple hot spring of Fukayama who can enjoy throughout the year.
Shizu district that is located in halfway up a mountain of one of the Dewa San-zan Mt. Gassan.
It is old and, as dorter of worshiper coming in Visiting Sanzan (three mountains), shows bustle as trekking and put up at an inn of tourist enjoying skiing in the summer now.
A lot of places where we can take a bath while looking at superb view of the mountains including Mt. Gassan heal daily fatigue.
To bath towel, let's have dishes which are kind to body using wild plants and mushroom.
Information
■

Name

"Gassan Asahi Guide Assosiation"

■

Location

10, Shizu, Nishikawa-machi, Nishimurayama-gun

■

Phone number

0237-74-4119

■

FAX number

0237-74-2601

■

Access

From swamp waiting for place between Yamagata Kotsu bus 30 minutes

■

Contact information

Association of Mt. Gassan Asahi Kanko

■

Remarks The hot spring total number: 1
The number of the accommodations: 12
Accommodation capacity (group): 80
[spring quality]
It is carbon - sodium - chloride cold mineral spring implicationdioic acid
[effect]
Chronic dermatopathia, chronic woman's illness, arthralgia, chronic digestive organ illness
[effect]
As for the chronic dermatopathia wound, burn, weak child,
Chronic woman's illness, neuralgia, muscular pain, arthralgia, stiff and painful shoulder of fifty years of age,
We see the exercise paralysis, tightening, us of joint and sprain,
Chronic digestive organ, hemorrhoids, poor circulation, convalescent convalescence,
Relieving fatigue, health promotion
Link
[Last updated] July 20, 2012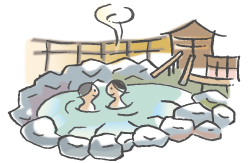 Search of hot spring spot
Welcome to the Yamagata Prefecture
Yamagata Weather Forecast