Sakurambo Higashine Onsen
さくらんぼひがしねおんせん
Among 1910 open hot water, rural districts
Atmospheric hot-spring village that can view the magnificent mountains from a distance
Hot water of beautiful rural district viewing Mt. Gassan, Hayama, Asahidake from a distance.
It is hot spring which is most suitable for both families and group with abundant quantity of water.
We were, and footbathing was possible as base of pleasant hot-spring resort.

It is also having fun that walks hot-spring resort where steam goes up with yukata.

There are public bathhouse (five places) and footbathing of local visitor purveyor if we walk hot-spring resort aimlessly, and way of enjoying varies, too.
When bitter yellowish brown hot water warms from core of body, and is hard to feel a chill after a bath; reputation. Footbathing largest in the prefecture is very popular, too.
Information
■

Name

Sakurambo Higashine Onsen

■

Location

1-8-23, Onsenmachi, Higashine-shi

■

Phone number

0237-42-7100

■

Access

From Sakurambo-Higashine Station ten minutes

■

Contact information

Higashine Hot Springs cooperative

■

Remarks [characteristic]
senon: 67.9 degrees Celsius
Smell: None
Color: Slight fawn
[spring quality]
Sodium - chloride, sulfate hot spring
[effect]
Burn, stiff and painful shoulder of fifty years of age, arthralgia
[visiting spas season]
Open: From April 1 to November 30
Admission Three pieces of hot water bill 1,200 yen
Link
[Last updated] July 29, 2015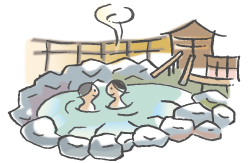 Search of hot spring spot
Welcome to the Yamagata Prefecture
Yamagata Weather Forecast