Shirabu Hot Springs
しらぶおんせん
Unexplored hot spring of thatched roof where there is taste
In hot-spring resort, inn of classic roof of thatch nestles and lets you feel the history called open hot water for Kamakura last years.
Like anecdote that hawk with white spot soaks in hot water, and healed wound, do you not stretch out feather slowly in leisurely time?
Origin of the name of Shirabu is attached from meaning called "made place = shirabu of hoarfrost" by indigenous people word.
It is base of outdoor sports to do well with trekking and ski including Tengendai Kogen and Mt. Nishi Azuma.
Information
■

Name

Shirabu Hot Springs

■

Location

Yonezawa-shi larger section of a village Seki

■

Phone number

0238-55-2205

■

FAX number

0238-55-2128

■

Access

From Yonezawa Station Shirabu Hot Springs line bus 41 minutes

■

Parking lot

Available

■

Contact information

Shirabu Hot Springs inn cooperative

■

Remarks The hot spring total number: 3
The number of the accommodations: 6 (guest house 1)
Accommodation capacity (group): Approximately 400
Possible day trip bath (ask each facility at time)
Temperature: Approximately 60
[spring quality]
fukumi*o, calcium - sulfate hot spring
[effect]
Wound, burn, neuralgia, chronic stomach and intestines illness
[effect]
Arteriosclerosis, chronic dermatopathia, chronic woman's illness,
Diabetes, high blood pressure, neurotic disorder, muscular pain, joint ill 
Stiff and painful shoulder of fifty years of age, joint become stiff and see hemorrhoids, us and sprain,
Chronic digestion mental depression, poor circulation, cut, burn,
Relieving fatigue, convalescent convalescence
Link
[Last updated] April 17, 2017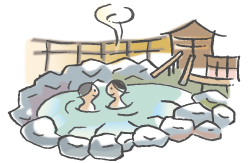 Search of hot spring spot
Welcome to the Yamagata Prefecture
Yamagata Weather Forecast