Yoshitsune is surprised, too!
Hot spring which Benkei dug up with Japanese halberd
Semi Hot Springs which legend that Yoshitsune party who aimed at Hiraizumi to escape from the bank of clear stream Oguni-gawa River, pursuer of Yoritomo Minamoto found remains.
Hot spring of glen that pulls steam peacefully in among the mountains, and reflects bather on the surface of the water of Oguni-gawa River.
We showed bustle for a long time as Shinjyo back room.
"Steam hot water" which steam warms from core of body by all means trial.
Information
■

Name

Semi Hot Springs

■

Location

Mogami-machi, Mogami-gun larger section of a village Ohori 989

■

Phone number

0233-42-2123

■

Access

From Rikuu East Line Semi-Onsen Station a 10-minute walk

■

Contact information

Semi Hot Springs Hotel Association

■

Remarks The hot spring total number: 3
The number of the accommodations: 8
Accommodation capacity (group): 479
[spring quality]
Sodium,
Calcium - chloride, sulfate hot spring
[effect]
Chronic dermatopathia, chronic woman's illness, hemorrhoids disease,
Neuralgia, relieving fatigue, chronic digestive organ illness

Link
[Last updated] January 11, 2018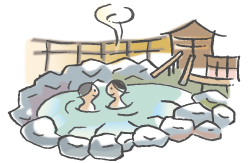 Search of hot spring spot
Welcome to the Yamagata Prefecture
Yamagata Weather Forecast