Ginzan Hot Springs
ぎんざんおんせん
Taisho wave abusive no appearance meets
Village of Senkyo
Hot spring which moat children were known for thing which discovered that hot water sprang out in Nakazawa as spa after having prospered as one, Dewa Nobesawa Gin-zan (silver mine) of the Japan's three biggest silver mine in 1456 (504 years ago), and caught Ginzan-gawa River, and had unique atmosphere that seemed to be hot water of mountain.
We receive designation of the nation rest hot spring in November, 1968.
Footbath was established recently near entrance of hot-spring resort.
Across Ginzan-gawa River flowing calmly, wooden construction accommodation built early in the Showa era from the Taisho era links the eaves.
Evening landscape that wet stone pavement shines in in gaslight and night fog and winter snow scene are superb views.
* nishirogane View from the Bridge is recommended.

Sodium - chloride, sulfate hot spring where flowers of sulphur that hot water was small were mixed in. Slightly rather hot hot water is recommendation in particular for woman who is troubled with poor circulation to warm to core of body.
Three public bathhouse "shirogane hot water" "rudder or hot water" and public bathhouse reservations bathhouse "feature hot water" will drop in on footbathing (free).
Information
■

Name

Ginzan Hot Springs

■

Location

Ginzan, Obanazawa-shi

■

Phone number

0237-28-3933

■

Access

From Oishida Station "Ginzan Hot Springs line" bus 40 minutes

■

Contact information

Ginzan Hot Spring Tourist Information Center

■

Remarks The accommodations: 12 houses
[characteristic]
senon: 63.8 degrees Celsius
Smell: Hydrogen sulfide smell
Color: Transparence
[spring quality]
Sodium - chloride, sulfate hot spring
[effect]
Chronic dermatopathia, chronic woman's illness, high blood pressure, neuralgia
Link
[Last updated] June 09, 2016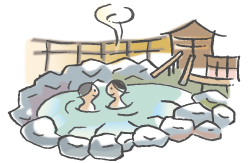 Search of hot spring spot
Welcome to the Yamagata Prefecture
Yamagata Weather Forecast