Trip to Yamagata| Hot springs
It is land lively Pompo-kan
いきいきらんど ぽんぽかん
Hot spring of family and friend and interchange healing with person to enjoy

Including hapompo bath (large communal bath) on the first floor, there is the first sand bath in mineral spring and the prefecture.
Spring quality warms well in sodium - chloride, hydrogen carbonate hot spring, and skin becomes smooth, and fair skin effect is expected, too.
There is pool and can enjoy the second floor from child to adult in water slider and big things and small things warm water pool.
After having shed a good sweat, we can relax leisurely in meal and rest room at restaurant.
Big things and small things banquets such as banquet, feast of Buddhist memorial service, same class society, workshop are available in 135-mat room with the stage, too. In addition, we take to and from each place.

Information
■

Name

It is land Pompo-kan lively

■

Location

155, Matsuzaka, Tozawa-mura, Mogami-gun

■

Phone number

0233-72-3600

■

FAX number

0233-72-3194

■

Business Hours


■

Access It is ten minutes by car from JR Tsuya Station


■

Parking lot 100 lots available


■

Contact information

0233-72-3600

■

Others

※Please confirm Details such as rate, business hours from facility homepage.
Spot List
Access Map
Link
[Last updated] May 26, 2015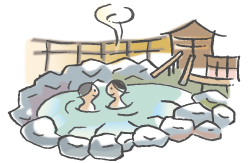 Search of hot spring spot
Welcome to the Yamagata Prefecture