Atmospheric hot spring where open hot water spa taste remains in 807

All hot springs can be fully exposed to effect of various hot springs in bath flowing constantly from the source.
Dishes have local nature material and can taste local cuisine which is kind to body.
In early nostalgic atmosphere of the Showa era, we can enjoy hot spring cure. 
It is here Hijiori that person to take a walk through with jinrikisha and yukata, such a good old retro feeling drift at hot-spring hotel standing in a row in a row across alley.
Other than atmospheric inn, there are three public bathhouses and spring water drinking place, medical treatment counselor's office, and it is understood that it is popular by bather.
It is morning market that wants to recommend by all means as well as hot spring.
You should be able to be surely satisfied with vegetables and mushrooms of products of the district, freshness, quantity, price including pickle.

Do you not have a feeling that you seem to be used from body beautifully if you spend time for a while here?
Information
■

Name

Hijiori Onsen

■

Location

Minamiyama, Okura-mura, Mogami-gun Hijiori Onsen

■

Phone number

0233-76-2211

■

FAX number

0233-34-6107

■

Access

From Shinjo Station Hijiori Onsen line bus 55 minutes

■

Contact information

Hijiori Onsen tourist information center

■

URL http://hijiori.jp/

■

Remarks [spring quality]
Sodium - chloride, hydrogen carbonate hot spring
[effect]
Drill wound, burn, chronic dermatopathia, neuralgia

Link
[Last updated] November 21, 2015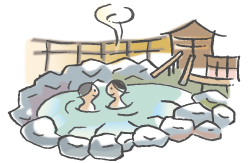 Search of hot spring spot
Welcome to the Yamagata Prefecture
Yamagata Weather Forecast