Yamanobe hot spring
やまのべおんせん
Local person has popularity
It is used regardless of any people regardless of age or sex
1983 Yamanobe hot spring rest center opening.
It was reopened in 2005 and transformed ourselves into light rumeno building.
Bright bathhouse and sauna room were enriched, and outdoor bath was done newly, too.
We describe mountain, and, in bathhouse, there are source High School, Naka warm bath tank and bathtub of 3 patterns of the Oomi source.
We let you beat, and hot water was always reborn in faucet type from thing which flowed.
There is some time lag until we drift.
Information
■

Name

Yamanobe hot spring

■

Location

Otsuka, Yamanobe-machi, Higashimurayama-gun Oomi 801

■

Phone number

023-664-7777

■

Access

Is car than Uzen-Yamabe Station; five minutes

■

Contact information

Yamanobe hot spring rest center

■

Remarks The hot spring total number: 1
[spring quality]
Sodium chloride spring
[characteristic]
Describe mountain; the source high temperature bathtub: 45 degrees Celsius
Describe mountain; warm bath tank in the source: 43 degrees Celsius
The Oomi source: 41 degrees Celsius
[we describe mountain the source, effect]
Drill wound, burn, chronic dermatopathia, weak child,
Chronic woman's illness, neuralgia, muscular pain, arthralgia,
We see stiff and painful shoulder of fifty years of age, the exercise paralysis, tightening, us of joint,
We sprain, and chronic digestive organ disease, hemorrhoids have poor circulation,
Convalescent convalescence, relieving fatigue, health promotion
[the Oomi source, effect]
Neuralgia, muscular pain, arthralgia, stiff and painful shoulder of fifty years of age, the exercise paralysis,
Of joint become stiff, and beat, and see, and sprain, chronic digestive organ illness,
Hemorrhoids, poor circulation, convalescent convalescence, relieving fatigue, health promotion
Link
[Last updated] November 19, 2018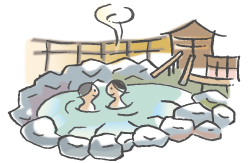 Search of hot spring spot
Welcome to the Yamagata Prefecture
Yamagata Weather Forecast