Excellent hot water of Oshu of open hot water tradition 1900
A certain Zao Hot Springs is the oldest Ideyu Hot Springs in Ou Mitaka hot water in halfway up a mountain of Zao Peaks, comfortable plateau.
Is said to work for dermatopathia and stomach and intestines disease with strong acid sulfurous spring, as for the nickname of "Hime-no-Yu Hot Springs" "Bijin-no-Yu Hot Springs."
It is old, and spa includes hot-spring resort that prospered in the foot of Zao Hot Spring ski resort, and we always show bustle, and walk while we look in souvenir shop is fun.
It is known for outstanding quantity of gush of Japan and strong acid-related spring quality.
There is large outdoor bath which can enjoy bathing in nature, and relax slowly and open feeling only in open-air bath taste and recommends to public bath.
It is spot where there are many fans in not only visited by sightseeing but also hometown.
Zao Hot Spring ski resort is chosen in "31 selections of most beautiful places of Japan" by American CNN and is evaluated abroad.
Information
■

Name

Zao Hot Springs

■

Location

Zaoonsen, Yamagata-shi

■

Phone number

023-694-9328

■

FAX number

023-694-9327

■

Access From Yamagata Station: 45 min by bus
From Yamagata-Zao Interchange: 35 min by car by way of Nishi Zao Kogen Line

■

Contact information

Zao Onsen Tourism Association

■

Remarks The hot spring total number: 31
[spring quality]
The acidity, iron-containing, sulfur - aluminum - sulfate chloride hot spring
[effect]
Chronic rash, chronic digestive organ disease, anemia, neuralgia
Link
[Last updated] February 08, 2019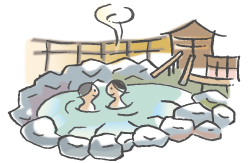 Search of hot spring spot
Welcome to the Yamagata Prefecture
Yamagata Weather Forecast