Trip to Yamagata| Hot springs
100% of abundant quantity of water dakarakosono sources. And we are proud of hot water good quality. Facility where hormesis bedrock bath and manipulative treatment, shiatsu, massage are received is added. The use that there is free rest room to ridge with hot spring, and one-day hot spring enjoy, and eats is possibility. There are coupon and one-day Courses that we tear off, and private room dinner meeting of garden was bundled.
Can enter a kindergarten free in garden; "tear off, and there is Park". In full bloom is the late August and early September. Please speak to the front desk on visit.
Information
■

Name

Tear off; garden

■

Location

2170-2, Narita, Nagai-shi

■

Phone number

0238-84-1387

■

FAX number

0238-88-3799

■

Business Hours

Day trip bath business hours from 10:00 to 22:00 (as for the last receptionist 21:00)

■

Closed The accommodations, No fixed holiday

Day trip bath, Every month third Thursday (we do business every month from 13:00 on first Thursday)

■

Admission Day trip bath, Adult (10 years old or older) 450 yen, child (4 years old or older) 250 yen, re-bathing charges 200 yen coupon (11 pieces of spelling) adult 4,500 yen, child 2,250 yen

※As for the hotel charges, please see accommodations HP.

■

Access

Is car than for approximately 90 minutes or Yamagata Expressway Yamagata zao IC by car than Tohoku Expressway Iizaka, Fukushima IC; 60 minutes

■

Parking lot

200 cars, trailer bus are possible

■

Contact information

Tear off; garden

■

Others Hot spring ingredient, Sodium chloride, hydrogen hot spring carbonate
Hot spring effect, Of relieving fatigue, convalescent convalescence, arteriosclerosis, joint become stiff, and beat, and see, and sprain, neuralgia, arthralgia, muscular pain, stiff and painful shoulder of fifty years of age, cut, burn, chronicity dermatopathia, hemorrhoids disease, chronicity woman's illness, poor circulation, chronicity digestive organ disease, health promotion, feebleness child, the exercise paralysis
Spot List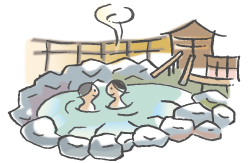 Search of hot spring spot
Welcome to the Yamagata Prefecture