Top horn hot water
こまつのゆ
"Top horn bath" nestling in quiet plot that deviated from bustle of Higashine-shi, Yamagata center is one-day hot spring among the mountains rich naturally including grand mountain "Mt. Gassan" of Yamagata.
Information
■

Name

Top horn hot water

■

Location

2-11-1, Onsenmachi, Higashine-shi

■

Phone number

023-742-1551

■

Remarks Spring quality] sodium = chloride hot spring

[adaptability for bath] Of drill wound, burn, chronic dermatosis, weak child, chronic woman's illness, neuralgia, muscular pain, arthralgia, stiff and painful shoulder of fifty years of age, the exercise paralysis, joint become stiff, and hit, and see, and sprain, for chronicity digestive organ disease, hemorrhoids symptom, poor circulation, convalescence convalescence, is relieving fatigue, health promotion for fatigue convalescence

■

Others

※Please confirm Details such as rate, business hours from facility homepage.
Link
[Last updated] November 19, 2018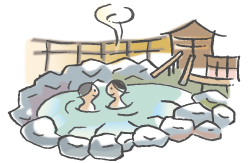 Search of hot spring spot
Welcome to the Yamagata Prefecture
Yamagata Weather Forecast