Shirabu Hot Springs "Accommodation of hot water waterfall West shop"
ゆたきのやど にしや
Accommodation which conveys healing of hot spring where old kara leads to in now. Main building of thatch roof is mark
It is hot-spring ryokan of roofing with grass root to convey in old o now of Shirabu Hot Springs for open hot water 700 years. We are waiting for visit by comfortable the hall, abundant quantity of water and hot water waterfall bath of force, seasonal taste and Yonezawa beef, seasonal charm although being old.
Information
■

Name

Shirabu Hot Springs "accommodation west shop of hot water waterfall"

■

Location

Yonezawa-shi, Yamagata larger section of a village Seki 1527

■

Phone number

0238-55-2480

■

FAX number

0238-55-2212

■

Business Hours Reservation time from 7:30 to 21:00
[drop in hot water] From 11:30 to 15:30

■

Closed Principle every week Monday and Tuesday
(we may change. Please confirm over telephone)

■

Access ・From Tohoku Expressway Iizaka, Fukushima IC one hour 15 minutes
・From Yamagata Shinkansen Yonezawa Station Yamagata Kotsu commuter pass bus 45 minutes, taxi 35 minutes
・It is 33 minutes by car from Tohoku Chuo Expressway, Yonezawa center IC

■

Parking lot

25

■

Contact information

Phone number 0238-55-2480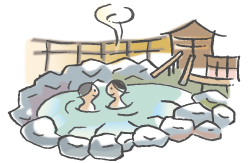 Search of hot spring spot
Welcome to the Yamagata Prefecture
Yamagata Weather Forecast