Awanoyu Onsen Miyoshi-so
あわのゆおんせん みよしそう
Do you know that hot spring carbonate is good for the health?
Precious hot spring where has only five in Japan.

It is near the Mt. Ide starting point of a mountain climb and is a few precious hot springs carbonate in Japan.
Carbon dioxide is absorbed in the body when we take a bath and smoothens flow of blood.
In addition, as hot spring carbonate is acidulous, it is kind to the bare skin, and skin becomes smooth.
Information
■

Name

Awanoyu Onsen Miyoshi-so

■

Location

Oguni-machi, Nishiokitama-gun, Yamagata larger section of a village Kotamagawa 715

■

Phone number

0238-64-2220

■

FAX number

0238-64-2221

■

Access 35 minutes for the bus "southern part line Japanese apricot skin-so, Iitoyo mountain cottage area" town-managed than JR Yonesaka Line Oguni Station
"Kotamagawa elementary and junior high school" getting off, approximately 30 minutes on foot (there are pickup and drop-off from bus stop).

■

Contact information

Awanoyu Onsen Miyoshi-so

■

Remarks [spring quality]
fukumitetsu, carbon dioxide natoriumu calcium chloride, sulfate hot spring
[dissolved gas ingredient]
Free carbon dioxide (CO2) 1495�
[effect] Wound, chronic dermatopathia, neuralgia, arthralgia


■

Others Guest room     14 (three new buildings)
Seating capacity 40 people
The large hall 40 people accommodation
The 20 people accommodation between Nakahiro

Bathroom source hot spring (man and woman)
     Hinoki large communal bath (natural water heated bathwater, man and woman)

★Possible day trip bath (500 yen)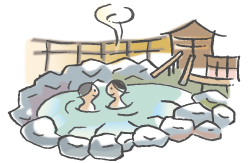 Search of hot spring spot
Welcome to the Yamagata Prefecture
Yamagata Weather Forecast