Uetsu shina cloth
うえつしなふ
In Sekikawa district in valley where snow of Atsumi, Tsuruoka-shi area was deep, Shinaori has been performed for a long time in all families.
Although it is not sure, as for the origin, it is counted on "the Japan's three biggest ancient cloth" with Basho-fu Textile of Okinawa, Kuzu texture of Shizuoka.
While local inhabitants cooperate, after 1985 (Showa 60), we continue production led by "Shinaori center" which we erected in communities. (※ 2017 renewal)
In 2005, we receive traditional craft designation of country as "Uetsu shina cloth" with production Sarerushina cloth in Yamakumata district of Murakami-shi, Niigata, thunder district.
Information
■

Name

Uetsu shina cloth

■

Location

222, Aza-mukai, Sekikawa, Tsuruoka-shi

■

Phone number

0235-47-2502

■

FAX number

0235-47-2333

■

Business Hours From 9:00 a.m. to 4:00 p.m.



■

Closed

Every Tuesday, Sunday, tray, New Year holidays of the winter season (from January to March)

■

Access It is 45 minutes by car via Route 345 from Yamagata Expressway "Tsuruoka IC"
Is car than Nihon-kai Tohoku Expressway "Atsumi Onsen IC"; 35 minutes
It is about 1 hour 40 minutes by car from Nihon-kai Tohoku Expressway "Asahi mahoroba IC"
It is about 30 minutes by car from JR Atsumi-Onsen Station

■

Parking lot

25

■

Contact information

Sekikawa Shinaori cooperative (the Sekikawa Shinaori center)
Link
[Last updated] August 31, 2020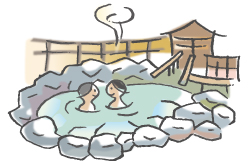 Search of hot spring spot
Welcome to the Yamagata Prefecture
Yamagata Weather Forecast