Specialty "Tsumugi Nagai" to be graceful, and to snuggle up to
Sericulture was carried out from the early period of Edo era, but was mainly the raw materials export of raw silk place. Yokozawa Chuubee of Aramachi invites master of shrinkage cloth texture under the promotion of industry production of feudal lord Uesugi Lord Yozan of time from Matsuyama, Niigata in 1776 (Anei 5), and it does by opening to have produced shrinkage cloth.
We spent on Showa by production of raw materials cocoons from the Edo era or last years, and Okitama district was main production centers of the prefecture, and Nagai-shi, Shiratakamachi was chief producing center in that.
Of Meiji Tsumugi Nagai came to be widely known in the whole country, and was admitted that became in the middle as Minister of International Trade and Industry-designated "traditional craft" in 1976.
Information
■

Name

Tsumugi Nagai

■

Location

2-18-1, Tatemachikita, Nagai-shi, Yamagata (Saito textile)

■

Phone number

0238-84-4371

■

Contact information

Tsumugi Nagai textile industry cooperative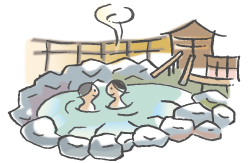 Search of hot spring spot
Welcome to the Yamagata Prefecture
Yamagata Weather Forecast