Yamaichi soy sauce restaurant
やまいちしょうゆ
Signature product of soy sauce shop well-established secret taste as for "we let it is over and feel"
Soy sauce, miso restaurant well-established having been continued since the Edo era. From Aramachi Street to plains riverside of the east side, there are store, soy sauce Kura, the training Kura, miso granary and length of about 100m rebuilt in around 1920 (Taisho 9), and building which left appearance of traditional merchant's family of Nagai is appointed in registration cultural assets of country. As for miso and the soy sauce which are fitted with handicraft by traditional technique now again, with many local and repeaters from distant place, the present head of a household is food that it is unusual that "we let you open and feel" is this shop and is made secret Delicacy inheriting the manufacturing method from generation to generation particularly. In Tomo of rice, it is product quite popular with Gifts to snack of liquor.
Information
■

Name

Yamaichi soy sauce restaurant

■

Location

6-57, Aramachi, Nagai-shi

■

Phone number

0238-88-2068

■

FAX number

0238-88-2068

■

Business Hours

9:00-17:00

■

Closed

Sundays and holidays

■

Contact information

Yamaichi soy sauce

■

Others

Please refer on visit beforehand. Please note that I may decline at the brewing training time.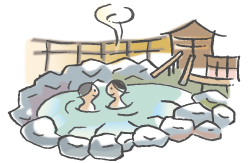 Search of hot spring spot
Welcome to the Yamagata Prefecture
Yamagata Weather Forecast