Unrefined hemp texture
あおそおり
Fantastic textile "unrefined hemp texture"
Plant "unrefined hemp" of Urticaceae that tough fiber is removed.
 It was old and, for the age of civil strife, was cultivated under the supervision of person of Uesugi and was useful as high-quality article when processed into textile.
 However, the prosperity went wrong by change to sericulture with bad crop of unrefined hemp after the change seal in Yonezawa, and person of Uesugi was forgotten with change in the times, but revived by dyeing and weaving writer of Nanyo-shi in the present age.
 Unrefined hemp texture that all takes 1 year one for manual labor to finish weaving. It is characterized by translucency, refreshing feel, toughness.
Information
■

Name

Unrefined hemp texture

■

Location

430-1, Takanashi, Nanyo-shi

■

Phone number

0238-43-3364

■

FAX number

0238-43-4075

■

Contact information

Unrefined hemp studio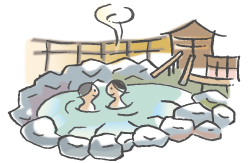 Search of hot spring spot
Welcome to the Yamagata Prefecture
Yamagata Weather Forecast