Time thread "kibiso" firstly to take out - which makes cocoon.
Cloth getting used to being beautiful is topic.
Silk production center of the most northern limit of Japan.
It begins to silkworm egg, and coherent process is gathered until manufacture of silk fabrics by this ground.
It was the highest and continued making Tsuruoka silk with feelings to manufacturing of Japan and always introduced brand to tradition as [kibiso].
Water-soluble protein sericin is included in "kibiso" abundantly, and it is said that we provide high humidity retention power, ultraviolet rays power of absorption and antioxidation and is used as ingredient of skin care.
Information
■

Name

Tsuruoka silk

■

Location

Daihoji, Tsuruoka-shi character Japan 223-5

■

Phone number

0235-22-0507

■

FAX number

0235-24-6368

■

URL http://kibiso.jp/
Link
[Last updated] March 05, 2018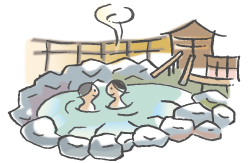 Search of hot spring spot
Welcome to the Yamagata Prefecture
Yamagata Weather Forecast