Folkcraft in Yamagata-shi circulation rou 1 (2 days and 1 night)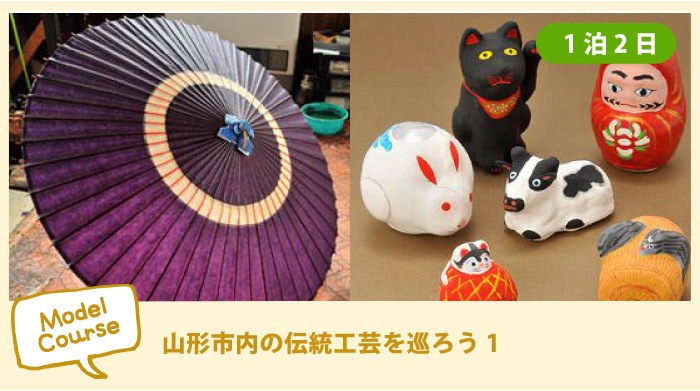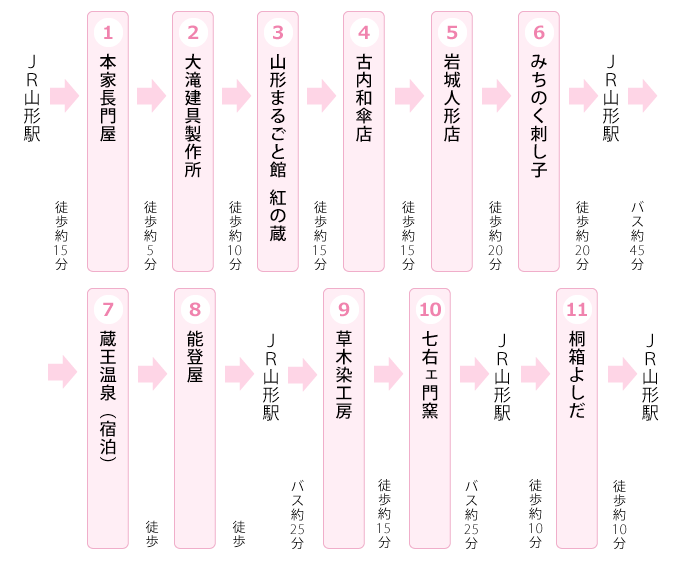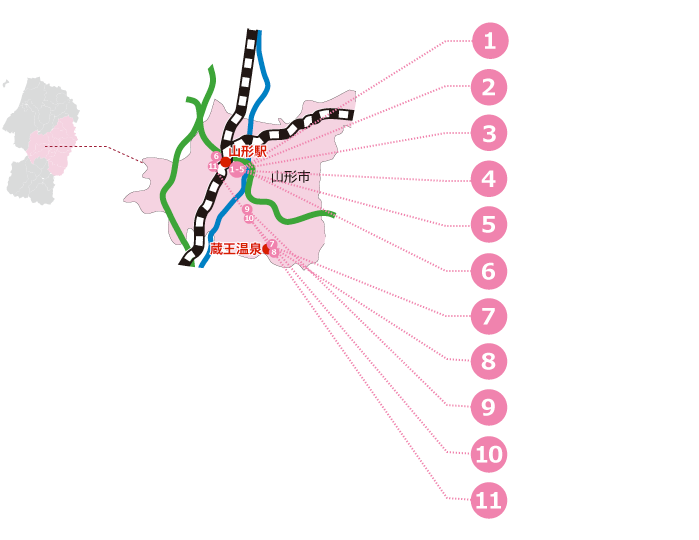 JR Yamagata Station

Yamagata Station of point of traffic is station with many people coming and going by commuting, attending school.

Head family Nagatoya

It is completed by "shu*ho" where complexions increase and unique finish to say so as to use if lacquerware shop "Kennosuke coat" of Yamagata is succeeded to and uses.
※From Sunday fixed closing day business hours 9:00 to 18:00

It is five minutes on foot

Otaki Waterfalls housing part Seisakusho

Shop of Yamagata housing part. It produces sliding paper door or screens.


It is ten minutes on foot

(Yamagata Marugoto-kan) Beni-no-kura

It is popular calling place that building made with Kura catches eye. There are traditional craft and popular souvenir, direct marketing and restaurant. We hold pleasant entertainment including Events on holiday and holiday.


The Furuuchi sum umbrella shop

Shop of the sum umbrella to inherit tradition from the Edo era. We make with the same manufacturing method now. Sound of rain only by the sum umbrella feels breast kashisanio which nobody knows.


Iwaki doll shop

It is shop of Yamagata papier-mache. Please see folk toy with warmth.


Michinoku quilting

Take new sense; nyu retasashikodesu.


JR Yamagata Station

Bus guidance center is at Yamagata Station bus terminal and performs announcement to bus ride. We know the service situation of bus which we want to get on if we read QR code.

Zao Hot Springs (accommodation)

Zao Hot Springs is popular hot-springs resort that we cut the prefecture. Go including opening-like large outdoor bath and can taste taste only in Zao in impossible * u hot-spring resort.
※From Zao bus terminal a 10-minute walk (is uphill slope.)

Noto-ya

We receive high evaluation to lover with Zao traditional kokeshi doll of Takayu origin.
※[visit] This needs reservation.


JR Yamagata Station

Around Yamagata Station has a lot of restaurants. Popular "soba" "ramen" is Seoul food of Yamagata Prefecture. It is attractive one that can taste quickly in limited time.
※For bus "goes to for art College of Engineering or wild grass garden"


Dyeing with vegetable dyes studio

Do not use scientific dye, is warm, tasting is dyeing with vegetable dyes Nara. It is easy to arrange cloth or scarf, and warmth to touch skin is felt.
※It is a 5-minute walk from getting off at Hirashimizu bus stop


Seven right e gate kilns

We can enjoy ceramic art experience by oneself. We further describe painting and can make one piece of original.
※[visit] Reservation is necessary for this.
※It is a 15-minute walk to Hirashimizu bus stop
※Bus of return "goes to Yamagata-shi government office"


JR Yamagata Station

There is locker at the station square and bus terminal. We leave heavy baggage and why don't be observed in lightness?

It is ten minutes on foot

Paulownia box yoshida

It produces complete made-to-order new paulownia boxes which we put together in the times.
※[visit] Reservation is necessary for this.

It is ten minutes on foot

JR Yamagata Station

Station building of Yamagata Station, S pal keep popular Gifts in the prefecture. As there is shop of JA, we buy vegetables and fruit in the fresh prefecture and can send out.

2019.01.17: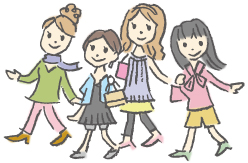 Sightseeing information search
Welcome to the Yamagata Prefecture