In rent-a-bicycle GO! mahorobano village "Takahata" (get and back in a day)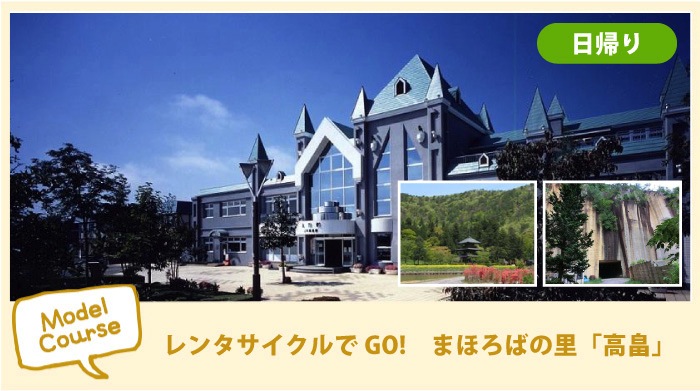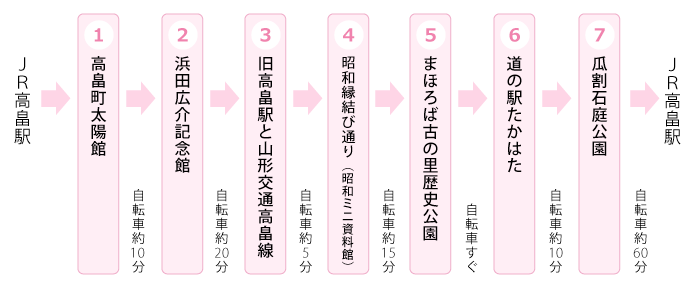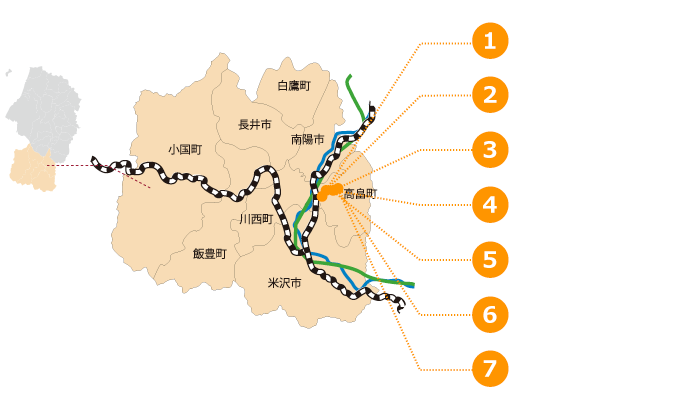 On foot (the station yard)

Takahata-machi Taiyo-kan

We can borrow bicycle in "Taiyo-kan" in the yard if we get off train. Cycling starts through "Mahoroba-no-Ryokudo" (※ 1) from here.

It is ten minutes by bicycle

The Hirosuke Hamada Memorial

Memorial hall of Hirosuke Hamada which was also called "Japanese Andersen" in writers of children's story from Takahata-machi. Hiro including "red oni which cried" "mukudorinoyume" be not crowded and can touch the world of literature.

It is 20 minutes by bicycle

Old Takahata Station and Yamagata Kotsu Takahata Line

Former Takahata Station which there was ever from Ou Main Line rice bran no eyes station (existing JR Takahata Station) in center of town in railroad of Yamagata Kotsu which we diverge and bound together to Niijuku Station exists even in now when it was in abolished line.


It is five minutes by bicycle

According to matchmaking of the Showa era (mini-museum of the Showa era)

Good old street which lets you feel life of the 30, Showa generation. We display life article and electric appliance at the time and can take a walk through mall happily. Handmade signboard that display shop is unique is mark.


It is 15 minutes by bicycle

Mahoroba-inishie-no-sato Rekishi Park

Akutsu Hachiman Shrine Mie tower is rebuilt in 1797 (Kansei 9) and is said to be for the first time-based ha 1625 (Kanei 2) and is the only layered pagoda in Okitama district. In three folds of the gardens, we can enjoy prefectural archaeology museum and reconstruction house, flowers of the four seasons other than tower.


It is immediate by bicycle

Takahata Roadside Station

What there is in historical park house opposite "Roadside Station Takahata." There are restaurant and direct sale place, too and is full of many customers.


It is ten minutes by bicycle

Gourd broken stone garden Park

We were accompanied by this name after "cooling gourd in Shimizu of stonepit, gourd was broken" at quarry of "Takahata stone" which was local stone. We are overwhelmed to size of the scale.


It is 60 minutes by bicycle

JR Takahata Station (Takahata-machi Taiyo-kan)

From here at a stretch to goal. We sweat in hot spring adding to station and are no good if we return bicycle in Takahata Station Taiyo-kan! As there are restaurant and stand, we take meal and Gifts here.
Please refer to Takahata Town Tourist Association homepage for rent-a-bicycle, sightseeing information of other Takahata.

2018.08.30: | Course]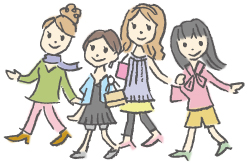 Sightseeing information search
Welcome to the Yamagata Prefecture