We must see it! Trip (get and back in a day) of Haguro-san Five-storied Pagoda special visit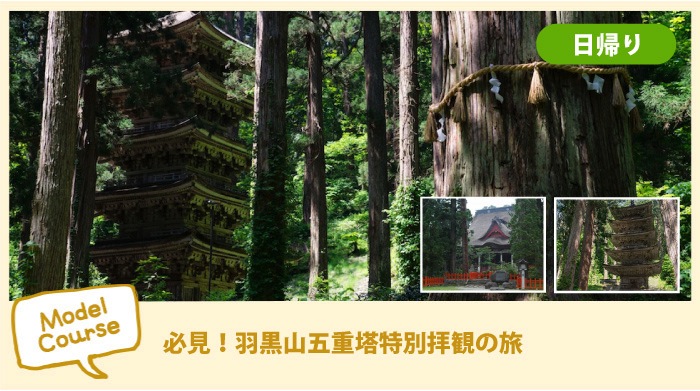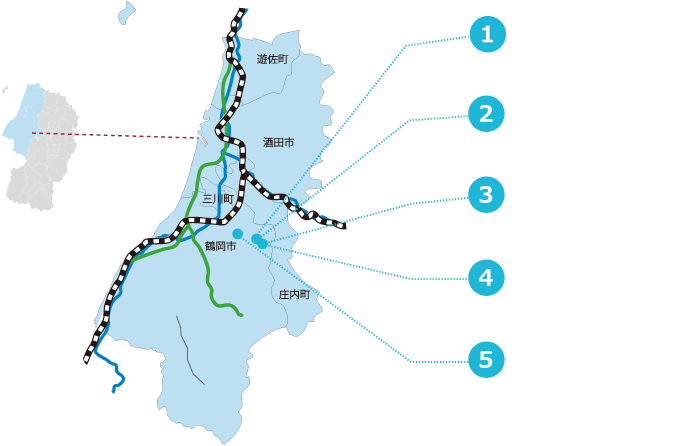 JR Tsuruoka Station

Tsuruoka-shi that is authorized alone in the UNESCO food culture creation city in Japan, and is blessed with rich food culture. It is in composition facility which can know restaurant and area including Marche that made use of ingredients of Chisan in "Tsuruoka food culture market FOODEVER" (fudeeva) on Marika east the first floor in the station square of the hall.
We take bus of the Haguro mountaintop area from JR Tsuruoka Station first platform.

The Mt. Haguro-san Shinto gate

The red main gate of a Buddhist temple which is built at entrance of Mt. Haguro-san prayer way the Shinto gate (zuishimmon). Gods (Shinto is enshrined with sword and bow and arrow.of gate-keeper preventing invasion of demon from side to side Bus gets off here and walks from here to prayer way.

Haguro-san Five-storied Pagoda

There is no record that national treasure Haguro-san Five-storied Pagoda opened publicly after the Meiji era. 2018 is commemorative year of His Majesty the Emperor reign 30 years, and it is in Shinto shrine, and Sanjin-go-saiden rebuilding 200 years, Mt. Haguro-san is year of turning point for 150 years as Mt. Haguro-san. In commemoration of this, we open the inside of Five Storeyed Pagoda to the public on (~ November 4) for a limited time. Please go and worship at this opportunity.

Dewa San-zan Sanjin-go-saiden

Okoso of the Japanese best that performed enshrining of more than two deities of three shrines of Mt. Gassan, Mt. Haguro-san, Mount Yudono.
Thatched roof of thickness 2.1m, all including the inside of total lacquering are powerful and see and endure and are enough.

It is five minutes on foot

Feather 3, Kuroyama basket place Shinto priest-purification shelter

It is seasonal wild plants produced at the Dewa San-zan foot of a mountain and dishes which continued protecting tradition peculiar to Haguro to material with bamboo shoot.
All the dishes need reservations.

It is five minutes on foot

The Haguro mountaintop

By bus to bus ride Tsuruoka Station, we get off in "Otorii".

Bus stop "Otorii"

We have you take a walk on foot from here for approximately 15 minutes and go to Gyokusen-ji Temple .

Gyokusen-ji Temple

As for the Gyokusen-ji Temple in the foot of Dewa San-zan, the basics of kaku mete temple of the Zen sect were built in Mt. Haguro-san in way home, Kannondo that we visited ryozenhomeizenshi which was best disciple of initiator way former reverend of Soto sect in the Kamakura era (1251). It was local singular famous garden, and garden of Gyokusen-ji Temple was appointed in cultural assets natural beauty spot of country. How about quieting heart while looking at garden here, and having Matcha (pay)?

Bus stop "Otorii"

We take bus of "to Tsuruoka Station" from here.
⇒The end of the Courses one-day at Tsuruoka Station.

2018.08.24: | Course]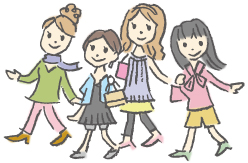 Sightseeing information search
Welcome to the Yamagata Prefecture