Trip (2 days and 1 night) to call in good matches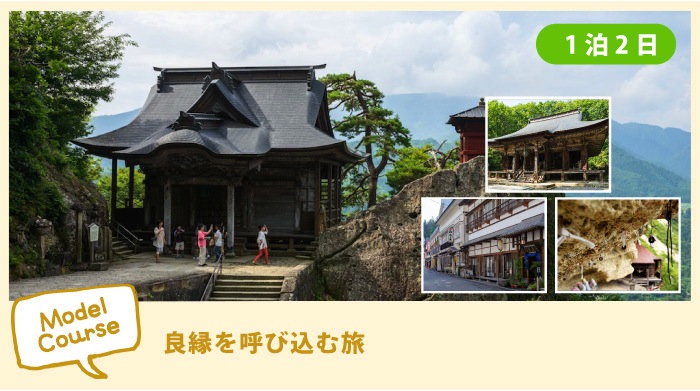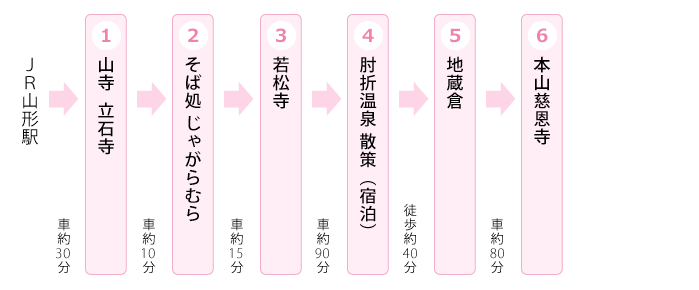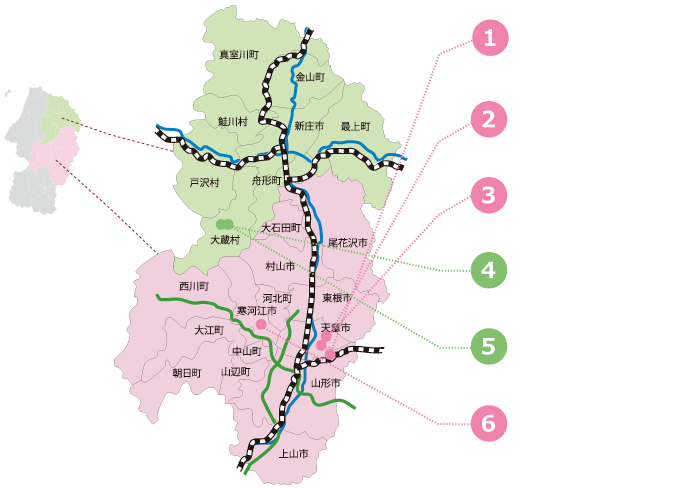 9:30

Risshaku-ji Temple Risshaku-ji Temple

Risshaku-ji Temple is called Hojusan Risshaku Temple definitely and is Ryozen representing Tohoku in Imperial mausoleum of Tendai sect. We are known as temple giving refuge to soon-to-be divorced women cutting off evil destiny for a long time. The Buddha of Healing laid in state in Konpon Chudo varies; was said that there was benefit that followed because was bad, and cut off evil destiny, and it was said, and relationship came over, and found happiness and have been prayed from old days when life improved. It is considered to be origin called temple of evil destiny limit.

12:10

soba restaurant Jagaramura Village

We washed somen which we boiled using cold spring in hometown from old days and, tightening, ate delicious somen of eminent drinkability. Tempura uses fresh vegetables from hometown, too. Then pattern konjac is famous, too.

13:30

young Matsudera

It is hallowed ground that line basis Bodhisattva performed founding of in 708 (Christian era 708 years) at the end of the Asuka era. We are known as the "matchmaking" Kannon. Event of "matchmaking" is carried out every month, too.

15:45

Hijiori Onsen walk

Barrier preventing landslide where old mail office and Hijiori dam built in 1937 were made in 1952. Building feeling the history is left in nostalgic hot-spring resort.

16:45

accommodations

In 20 inns of Hijiori hot-spring resort, all inns are absorbed in bath flowing constantly from the source. Furthermore, dishes are local cuisine which we used local nature material for luxuriously good for your health, too.

9:40

guardian deity of children storehouse

Guardian deity of children storehouse is hallowed ground to be informed when aged priest concerning open hot water omen lived. It is said that we are blessed with good matches when torsion puts paper through hole of quay.

11:30

Jionji, Motoyama

When it was done founding by Imperial command of the Emperor Shomu in 746 (Tenpyo 18) by Indian Buddhist priest grandmother Luo gate rose thing, we are informed. Many cultural assets are left in the history accumulated since founder for approximately 1,300 years, and there is country designation important cultural property including Buddha statue which Kamakura is in the middle, and hangs from peace last years, and was made a lot. There is bowl of big iron when we enter the main hall of a Buddhist temple. It is said that there is benefit of the restoration of youth when we put head in this bowl (cast iron rice offerings to the Buddha bowl).

2018.08.03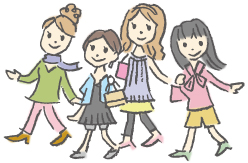 Sightseeing information search
Welcome to the Yamagata Prefecture