~ Tozawa-mura, Sakata-shi (March one week) that takes a trip to winter Mogami-kyo Gorge (again) [#1200]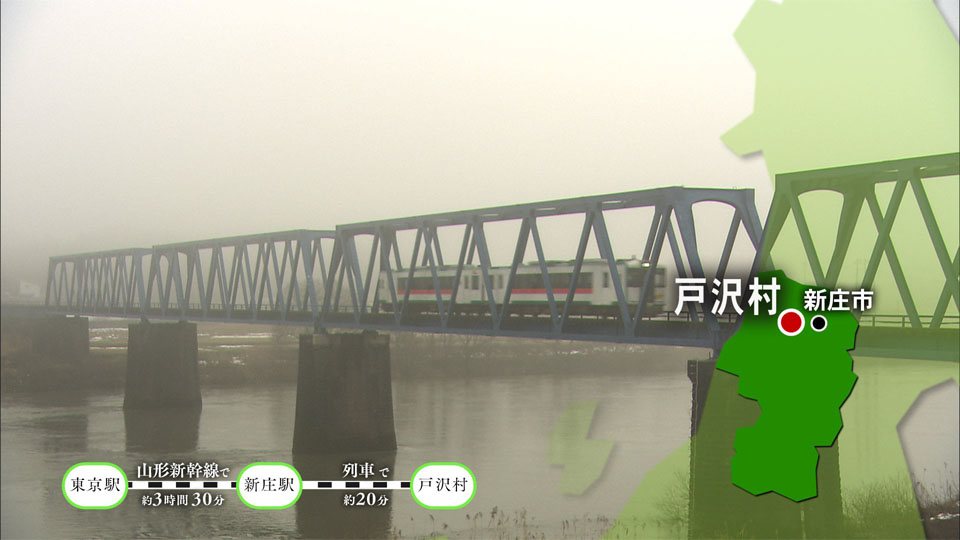 It is Shinjo Station of terminal by the Yamagata Shinkansen from Tokyo Station in approximately three and a half hours.
We change to Rikuu West Line from there and are arrival in Furukuchi Station of Tozawa-mura in approximately 20 minutes.
Ship descent that Mogami River flows through Tozawa-mura that is full of nature to carry through the center of village and goes down the Mogami River by ship
It becomes one of the sightseeing to represent Yamagata.


→Under program streaming!




Mogami barge descent
There is ship guard station in place for approximately five minutes on foot from Furukuchi Station and can enjoy ship descent throughout the year.
There is kotatsu ship in winter and can see snow scene from the warm ship. In addition, deluxe liner that it needs reservations
The ship is equipped with air-conditioner, and wireless LAN is available, too. We can enjoy sea voyage that interior is luxurious, and was something.
●Telephone: 0233-72-2001 (Mogami-kyo Gorge Basho Line Sightseeing)
●HP: Mogamikyo Bashou Line Kanko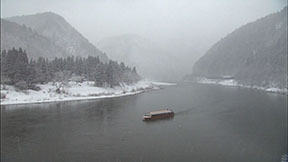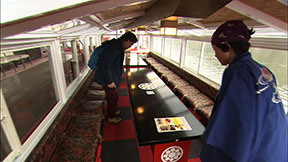 Shonaifu
Shonaifu is special product coming to neighbor, Sakata-shi of Tozawa-mura for a long time. Board-formed fried gluten which is rare nationwide in the Edo era
We are said to have done into a board form to carry to Kyoto or Osaka on goods-carrying merchant ship.
●Telephone: 0234-62-2424 (Marutomo)
●HP: Marutomo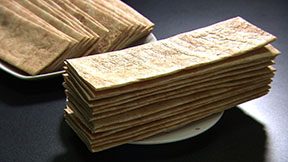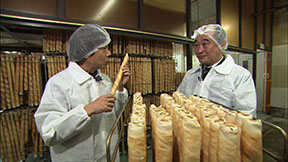 Chokai-no-Mori Forest Sansan
The accommodations in hill. We can enjoy not only accommodation but also meal and day trip bath. Here of original using Shonaifu
We can have dishes. And we can enjoy magnificent Shonai plains and beautiful seasonal scenery of Mogami River from bathhouse.
●Telephone: 0234-62-2633 (Chokai-no-Mori Forest)
●HP: Chokai-no-Mori Forest Sansan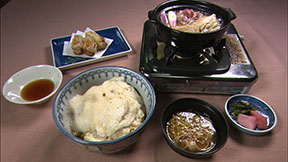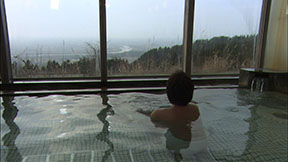 The next time…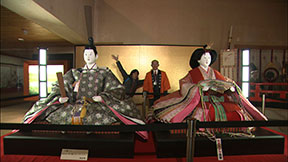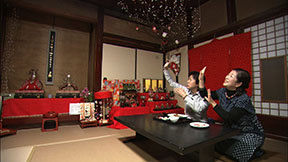 The Murayama district is stage of trip! We can enjoy hina circulation in Yamagata Prefecture in each place in coming season.
To see historical young bird, we have dishes using local specialty ingredients and heal fatigue in hot spring!
We went to recommended spot.
In fun!
From Yamagata! Memoirs facebook page of trip
Backstage of topic, shooting and program production that we were not able to introduce in program
Program suttafu sends in real time!
Please see in conjunction with program!
●
https://www.facebook.com/yamagatatabiken
2017.02.24: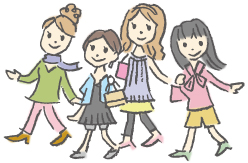 Sightseeing information search
Welcome to the Yamagata Prefecture