The Michelin green guide Japon publication ground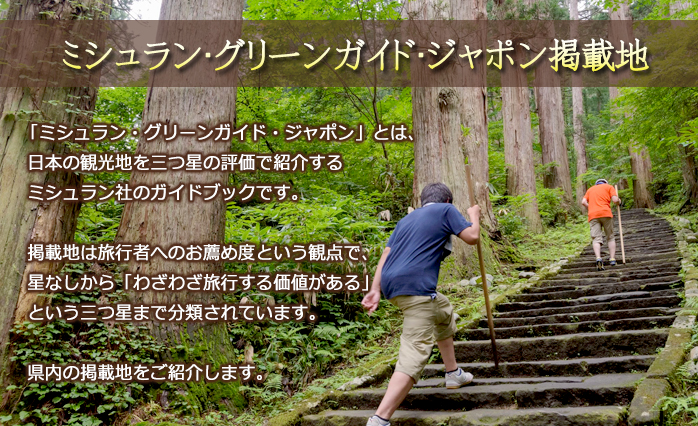 "Roadside Station" which is indispensable to drive Yamagata in sightseeing purpose.
"Michelin green guide Japon" is guidebook of Michelin Corporation introducing Japanese sightseeing spot by evaluation of mon of three stars.
Each place of Sakata and Tsuruoka was published in this guidebook.
We introduce the publication ground.
Shonai area
Name
The number of stars
Characteristic
Inquiry (phone number)
Sakata
☆
It develops as harbor city and is blessed with Mt. Chokai-san, remote island Tobishima, rich nature including rice field zone of Shonai plains, and history culture is fragrant town.
Sakata-shi government office
(0234-22-5111)
Homma Museum of Art
☆
Art museum to keep article which the Honmas whom light way built for the Honmas fourth generation collected, and to display.
It is Homma Museum of Art.
(0234-24-4311)
Homma-ke Kyuhontei
☆☆
Samurai residence of gate of a tenement house style posture that light hill built for the Honmas third generation. It is building which is rare in the whole country where merchant's family structure was united with samurai residence.
Homma-ke Kyuhontei
(0234-22-3562)
Ken Domon Museum
☆☆
Memorial of photographer, Ken Domon who became Sakata-shi honorary citizen first.
Ken Domon Museum
(0234-31-0028)
Sakata-shi art museum
Art museum where we made use of scenery which could overlook Mt. Chokai-san, Mogami River, city area in.
Sakata-shi art museum
(0234-31-0095)
Sankyo Soko [warehouse]
 
U.S. storage warehouse which the old Shonai feudal clan Sakais stopped by in 1893, and was built.
Sakata Tourism and Product Association
(0234-24-2233)
Hagurosan
☆☆
Mountain of 414m above sea level to be located at the northwest foot of a mountain of Mt. Gassan. We are known as crowd of mountains mountaineering ascetics for a long time.
Haguro-cho tourist association
(0235-62-4727)
Sanjin-go-saiden
☆☆
Sanjin-go-saiden which performed enshrining of more than two deities of three shrines of Mt. Gassan, Mt. Haguro-san, Mount Yudono.
Dewasanzan Jinja Shrine
(0235-62-2355)
Tsuruoka
☆
It is grain belt of Japan eminence that Shonai plains are brought up by Mogami River and flow of Akagawa, and large dune opens in the west facing the Sea of Japan among the mountains of Asahi Peaks in Dewa San-zan, the south to Mt. Chokai-san, the east to the north.
Tsuruoka-shi government office
(0235-25-2111)
Chido Museum
☆
Museum which was founded in 1950 by contribution of old Shonai feudal lord Sakai.
Chido Museum
(0235-22-1199)
Churenji
☆☆
Historical temple to be informed with founder of Kobo Daishi (Kukai) sky Sea.
Churenji
(0235-54-6536)
Murayama area
Name
The number of stars
Characteristic
Inquiry (phone number)
Ginzan Hot Springs
☆
Across Ginzan-gawa River flowing calmly, wooden construction hotel built early in the Showa era from the Taisho era links the eaves. Evening landscape that wet stone pavement shines in in gaslight and night fog and winter snow scene are superb views.
Ginzan Hot Spring Tourist Information Center
(0237-28-3933)
Risshaku-ji Temple
☆☆
Natural rich seasonal scenery is breath-taking scenery. Eminent haiku poet Basho Matsuo leaves apt remarks of "voice of cicada sinking into calmness and rock" in "Oku-no hosomichi".
Risshakuji Sanmon Office
(023-695-2843)
Zao Hot Springs (large outdoor bath)
Large outdoor bath among nature of Zao. Smell of unique sulfur and bath flowing constantly from the source.
Zao Hot Springs sightseeing
(023-694-9417)
Zao Hot Springs
Excellent hot water of Oshu of open hot water tradition 1900. A certain Zao Hot Springs is the oldest Ideyu Hot Springs in Ou Mitaka hot water in halfway up a mountain of Zao Peaks, comfortable plateau.
Zao Onsen Tourism Association
(023-694-9328)
2017.03.30: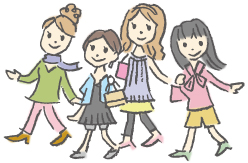 Sightseeing information search
Welcome to the Yamagata Prefecture