Visiting huge charm dams (Shonai, Murayama area)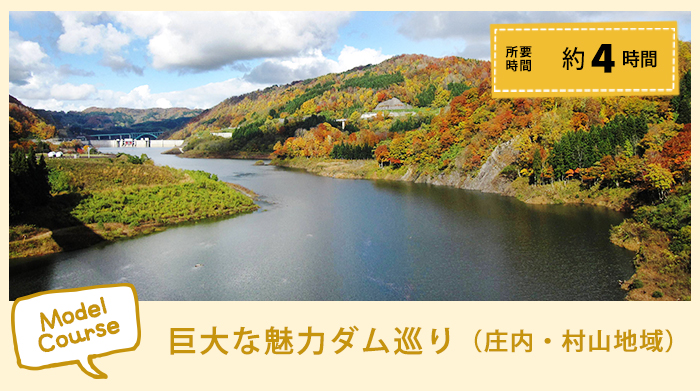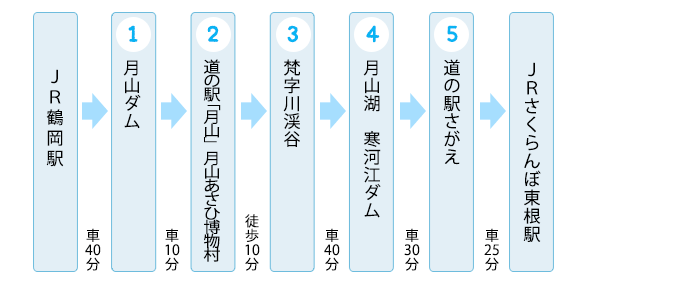 About four hours

JR Tsuruoka Station (car than Yamagata Expressway Tsuruoka I.C. about 15 minutes)

Mt. Gassan dam (Tsuruoka-shi)
Dam which even beginner can enjoy as design is beautiful, and information hall is added in Administration place. In hall, we display fish living in Akagawa, and information retrieval system to introduce introduction of Mt. Gassan dam with models and neighboring areas to is installed. You experience visit tour "Mt. Gassan dam social studies visit" of Mt. Gassan dam, too, and to authority of Mt. Gassan dam!
For more details, from this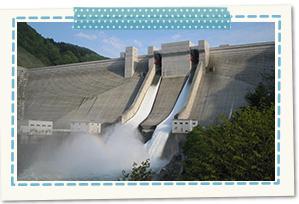 It is ten minutes by car
Roadside Station "Mt. Gassan" Gassan Asahi Natural History Village (Tsuruoka-shi)
Welcome to Roadside Station among Nature, village of mountain grape! There is "culture creation hall" which gathered literature, art with relation in Asahi area "mountain grape research institute" displaying and selling Mt. Gassan wine or mountain grape juice made specially in Asahi area. Backed by Nature, seasonal Events is held.
For more details, from this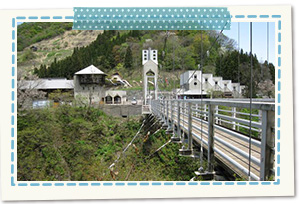 It is ten minutes on foot
Bonji-gawa Valley (Tsuruoka-shi)
It is Bonji-gawa Valley of a 3-minute walk from Kome-no-Ko-no-Taki Waterfalls drive-in. If see the fresh green and colored leaves of superb view; here! Walk in fine-view Promenade (about 800m in total length, about 30 minutes on foot) across nabira snow suspension bridge is recommended.
For more details, from this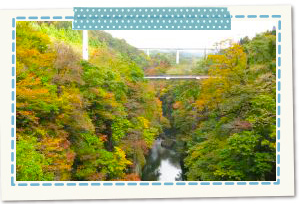 It is 40 minutes by car
Gassan-ko Lake, Sagae Dam (Nishikawa-machi)
Even if, surprisingly, the highlight of Sagae Dam says; "the best large fountain in Japan." It blows up to altitude of 112m. By the way, the amount of bank of dam is 112m. National highway going along the dam lake side is 112. The submergence move number of houses is 112, too. In this, it is dam with connection to "112".
For more details, from this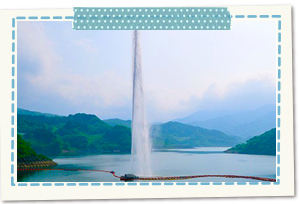 It is 30 minutes by car
Roadside Station Sagae (Sagae-shi)
Sankurambo hall, Turkish hall, sightseeing center consisting of three facilities of Linchuan bower. Two kinds of gelatos (¥280) which can choose taste which we can eat in Sankurambo hall are popular. Other than product and meal of village Sagae of Sankurambo, it is facility having a lot of highlight.
For more details, from this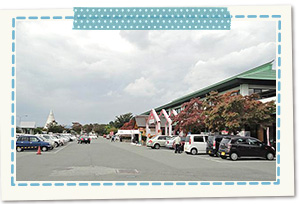 It is 25 minutes by car
Sakurambo-Higashine Station
2014.09.09: | Course]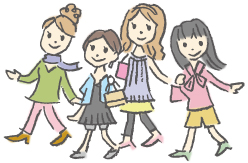 Sightseeing information search
Welcome to the Yamagata Prefecture