Visiting unexplored hot springs of Okitama (Yonezawa-shi)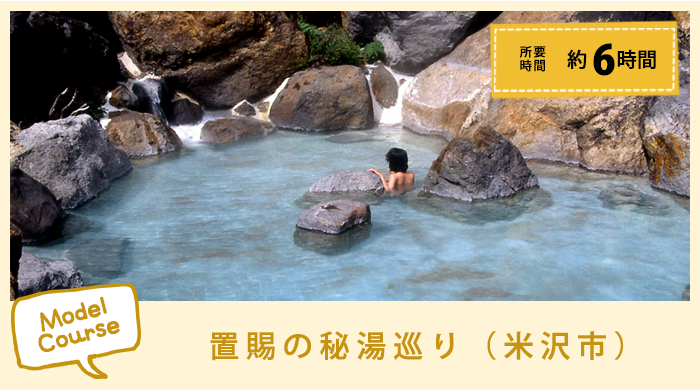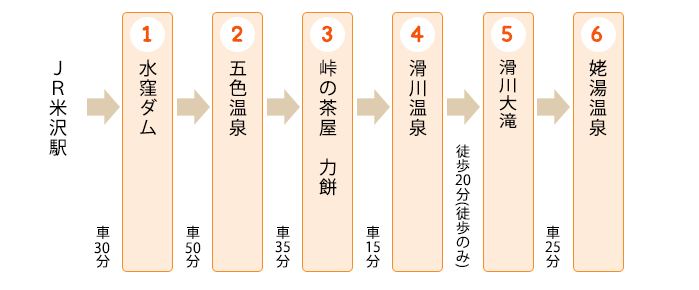 Six hours

We raise "hot flash" and around "the bath" when we take a bath without any reason and may harm physical condition.
As for the bathing number of times, please enjoy Courses while talking about two or three times of 1st with physical condition in limit.

Mizukubo (mizukubo) dam
Dam which was built by Mogami River water system Arthraxon hispidus river. It is place where is popular as view spot that can look around neighboring colored leaves in the fresh green, autumn in spring. Duck and waterfowls inhabit and do well as fishing ground such as carp, crucian carp, eel, catfish, char, a kind of trout, trout, haya.
For more details, from this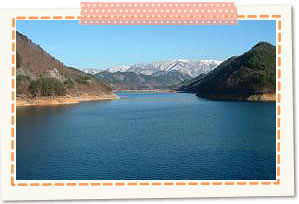 It is 50 minutes by car
Goshiki Onsen
It is historical spa discovered 1,300 years ago. Opening-like outdoor bath which can overlook Azuma Range is reputation. Please realize smooth skin of bath towel with easy hot water with transparence.
For more details, from this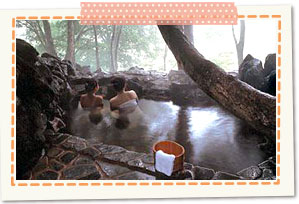 It is 35 minutes by car
Teahouse energy supplying mochi of mountain pass
Rice-cake dealer who has history 100 years or more in Osawa district approximately 600m above sea level. Drawing card product of teahouse of mountain pass is popular souvenir "energy supplying mochi of mountain pass" of Yonezawa. We eat freshly made rice cake and seasonal riches of the soil dishes and take a short break.
For more details, from this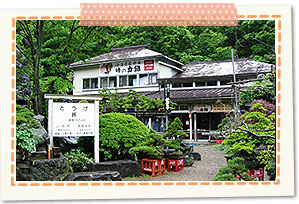 It is 15 minutes by car
Namegawa Hot Springs
It is along mountain stream and is nostalgic hot spring leaving taste of spa strongly. Outdoor bath surrounded with natural stone is flowing constantly from the source. We can take a bath while hearing scenery of untouched nature and the murmuring of river.
For more details, from this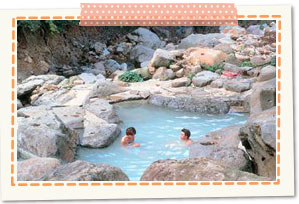 On foot 20 minutes
(only on foot)
Otaki, Namerikawa
Beauty that Otaki Waterfalls of drop 100m harmonizes wonderfully while dropping by complicated flow. We attract thing which atmosphere that is hermitism consisting of forest road and beech forests which are full of green of journey toward waterfall sees. It is chosen as 100 selections of Japanese waterfalls.
For more details, from this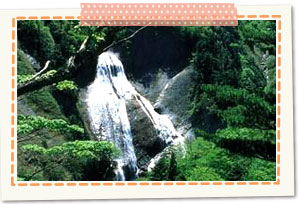 It is 25 minutes by car
Ubayu Hot Springs
Unexplored hot spring like unexplored hot spring of rural beauty perfect score among strangely shaped rocks. ubayu in 1,250m above sea level is higher prefecture's best as hot spring resort. It is characterized by milky-white hot water, and there is fragrance of sulfur in one side. In season of the fresh green and colored leaves, we can come across particularly wonderful scenery.
For more details, from this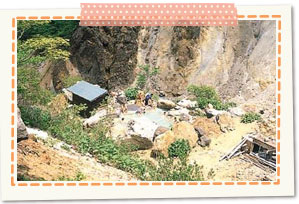 Goal
2014.07.14: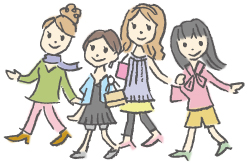 Sightseeing information search
Welcome to the Yamagata Prefecture