Yamanobe-machi| Walking around the city's history and manufacturing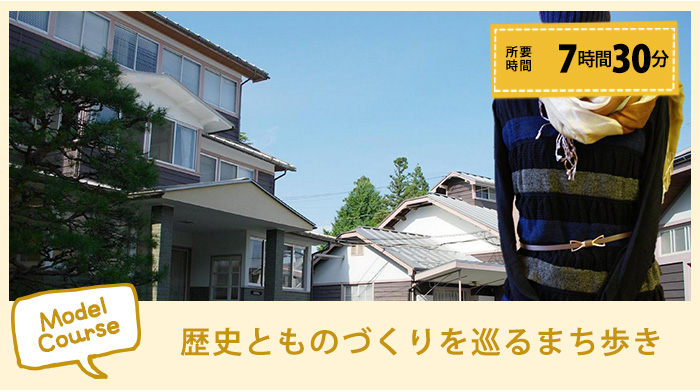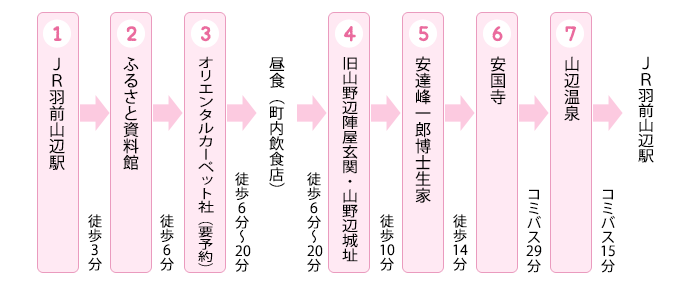 7 hours 30 minutes

Komi bus ride (service Sun: for from Monday to Saturday/suspension: on Sundays and holidays during tray period for New Year holidays
※Komi bus fare is 100 yen)
(6)2 no 2 *bozen (at 14:43) /(7) Yamanobe hot springs (at 17:00)

JR Uzen-Yamabe Station
We practice medicine in one of the JR East Aterazawa Line stations on July 20, 1921. It is used as doorway of Yamanobe-machi in morning and evening by commuting attending school person.
For more details, from this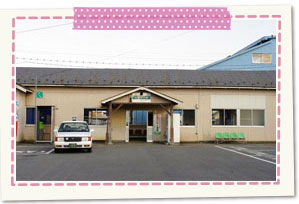 It is three minutes on foot
Oldness and museum
We treated safflower, unrefined hemp since the Edo era and restored three storehouses of the Seigoro Satos who was wide merchant's family and opened in July, 1994. Permanent exhibition shows document about fiber of "dyeing and texture". We carry out plan display. In addition, including Kyoho Hina Doll and Kokin Hina Doll, we display young bird of the times in the times.
For more details, from this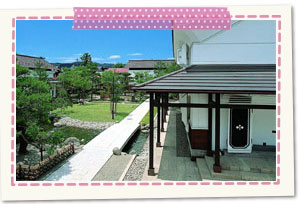 It is six minutes on foot
Oriental Carpet Mills company (reservation required)
Various parts of Japan are dotted with production centers of handwoven cotton carpet (teoridantsuu). They were things which culture transmitted from the Middle East in the Edo era, but "Yamagata cotton carpet" which Oriental Carpet Mills developed developed by art handed down directly by Chinese engineer uniquely. Perseverance that only number snow (cm) can finish weaving per day even if product of handwoven cotton carpet weaving thread by glance has technique and know-how of expert craftsman is necessary work. What large size size can make is said to be eminence in the country to have high technique.
For more details, from this
It is 6-20 minutes on foot
(lunch, restaurant in the town block)
It is 6-20 minutes on foot
The old Yamanobe encampment entrance, Yamanobe Castle ruins
It is remains of an ancient structure of encampment which we arranged because Shirakawa feudal clan (later Tanakura feudal clan) rules enclave of Dewa country in Era of Feudal Clans. Encampment main unit was disturbed in 1870, but the entrance is used by the entrances of elementary school and is saved in old government office ruins. There are eaves (sunshade which does not do brown-eared bulbul) of brown-eared bulbul line and is building which is valuable architecturally made with technique that is hardly used to common building.
For more details, from this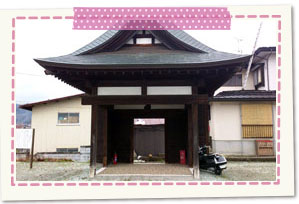 It is ten minutes on foot
The Dr. Mineichiro Adachi birthplace
It is great man of native district created on the Yamanobe-machi west high shield, the birthplace of Dr. Mineichiro Adachi. There is grave (including ancestors) in seika*seikorehi of former France ambassador plenipotentiary International Court of Justice long Shozo rank First Order of Merit Doctor of Law Mineichiro Adachi and wide temple to understand nearby. Newspaper articles conveying various books and photographs related to doctor in the northern part public hall which is adjacent in the birthplace indoor and site, book of handwriting, great achievement at the time are displayed.
For more details, from this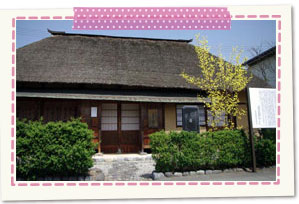 It is 14 minutes on foot
Ankoku-ji Temple
Takauji Ashikaga prays the Emperor Godaigo's soul may rest in peace and is one of the temples best among one country which we established in whole country 66 countries to cheer up zero of people who died by war over new government of Kenmu. The main gate of a Buddhist temple rebuilt in the age of an emperor year (1751 ~) of thing destroyed by fire, product of dream window Most Reverend Priest who was full of hearts of Zen other than bell towers and garden to be informed remain to thing at the time of founder partly. In addition, the main gate of a Buddhist temple is appointed in town cultural assets with tower gate-type building and is also called Deva gate as two Deva kings of inspiration and expiration fit into both bunches of right and left.
For more details, from this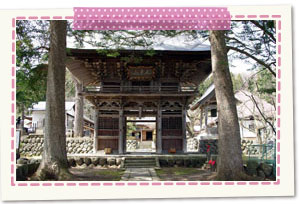 It is 29 minutes by Komi bus
Yamanobe hot spring
Yamanobe hot spring rest center opened in 1983. It was reopened in 2005 and transformed ourselves into light rumeno building. Bright bathhouse and sauna room were enriched, and outdoor bath was done newly, too. We describe mountain, and, in bathhouse, there are source High School, Naka warm bath tank and bathtub of 3 patterns of the Oomi source. We let you beat, and hot water was always reborn in faucet type from thing which flowed. There is some time lag until we drift.
For more details, from this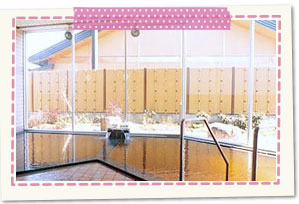 It is 15 minutes by Komi bus
            JR Uzen-Yamabe Station
2014.02.03: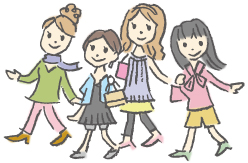 Sightseeing information search
Welcome to the Yamagata Prefecture