Obanazawa-shi| We walk Natagiri-toge Pass that the greatest cameo Basho of Oku-no hosomichi walked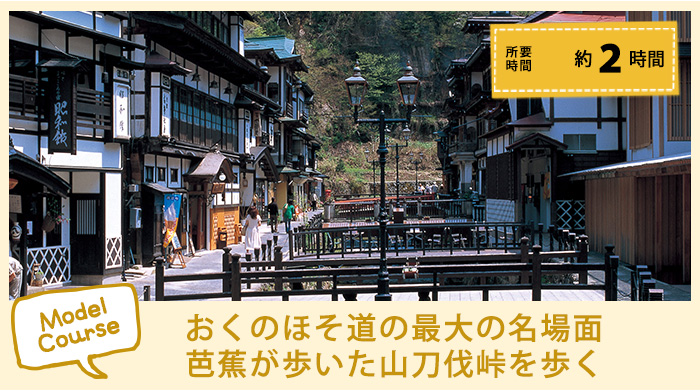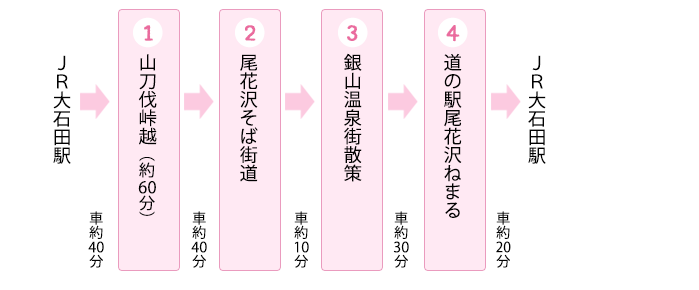 Two hours

JR Oishida Station (car than Tohoku Chuo Expressway Higashine I.C. about 25 minutes)
●By "shinonome sightseeing taxi in near the Obanazawa waiting for place," we can take for Course.
(please identify Courses as time on the telephone beforehand.)

Point:
We experience cameo Natagiri-toge Pass of Oku-no hosomichi.
Please appreciate Teuchi soba in Obanazawa side way participation shop.
Please heal slow fatigue in Ginzan Hot Springs which there is Taisho romance which became oshinno location.

Others:
●Available for day trip bath in Ginzan Hot Springs, too (time: at ~ 14:00 rate: 500 yen ~)
●We can experience nostalgic clothes in cafe airasugena of Ginzan Hot Springs
●There is "Tokura-ko Lake" in journey toward Roadside Station from Ginzan Hot Springs, and Hakuba comes flying in spring in cherry tree, winter. In addition, there are automatic Campsite and day trip bath facility, restaurant, experience-based studio in the outskirts and can enjoy through one year.

Natagiri-toge Pass (about 60 minutes)
To the mountaintop of Natagiri-toge Pass, paved road (old road) is maintained, but "History road" which Basho followed is maintained as Promenade separately from it now. It is covered exhaustively, and, in this way, untouched nature remains in thick beech forest by winding mountain path as it is said to be "27 curvature".
For more details, from this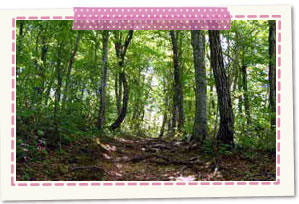 About 40 minutes by car
Obanazawa Soba Kaido(restaurant street)
It was common we did old side into a dumpling including "Sobagaki" and "side rice cake" form, and to eat. Called "side limit", and general long string-shape soba was ever born today early in the Edo era. Of course, in the times of Basho Matsuo, there was already.
For more details, from this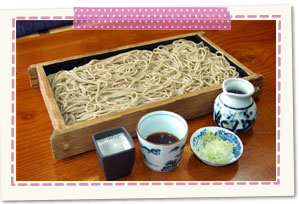 About 10 minutes by car
Silver mine hot-spring resort walk
After having prospered as one, Dewa Nobesawa Gin-zan (silver mine) of the Japan's three biggest silver mine in 1456 (504 years ago), moat children are known for thing which discovered that hot water springs out in Nakazawa as spa and are hot spring which catches Ginzan-gawa River, and had unique atmosphere that seems to be hot water of mountain. We receive designation of the nation rest hot spring in November, 1968.
For more details, from this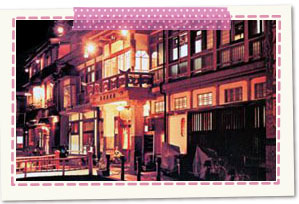 About 30 minutes by car
Roadside Station Obanazawa nemaru special product shopping
Roadside Station. We sell souvenirs, meal, direct marketing vegetables.
For more details, from this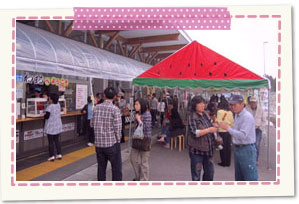 About 20 minutes by car
2018.03.23: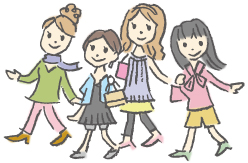 Sightseeing information search
Welcome to the Yamagata Prefecture