Takahata-machi | The recommended highlight Courses which is convenient by Taiyo-kan (Takahata Station) departure and arrival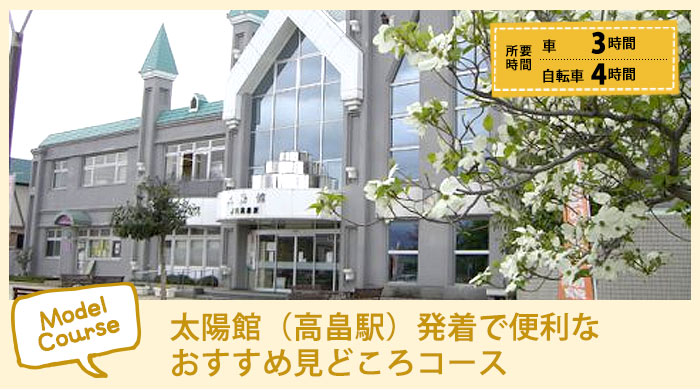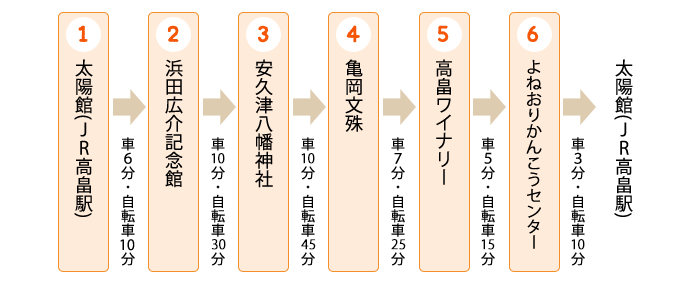 Three hours (car), four hours (bicycle)

・There is each place free parking lot
・Taiyo-kan rent-a-bicycle (9:00-17:00) three hours 500 yen extension rate 300 yen

Taiyo-kan (JR Takahata Station)
Station building function oo of JR which is rare in the whole country is general community facility with hot spring which it comprised. It is sharp and it is characterized by roof and images oldness of writer of children's story Hirosuke Hamada. We are lighted up in the evening and are full of fantastic light. In addition, it comprises free parking lot of 500 accommodation.
For more details, from this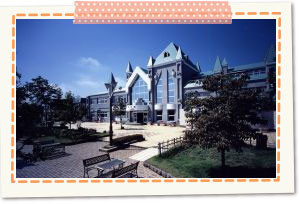 It is six minutes by car
It is ten minutes by bicycle
The Hirosuke Hamada Memorial
Pioneer, Hirosuke Hamada of modern Japanese juvenile literature are born as the eldest son of farmhouse in Ipponyanagi, Takahata-machi in 1893. We are praised with Japanese Andersen. In memorial, memento, manuscript of hiromekai are displayed, and there are "red oni which cried" and reading room, cafe corner where it is on at multi-screen in children's story room and is facility which you can enjoy toward adult let alone children.
For more details, from this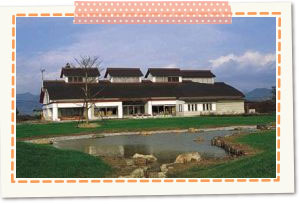 It is ten minutes by car
It is 30 minutes by bicycle
Akutsu Hachiman Shrine
As for the Akutsu Hachiman Shrine, it is said to be opening that Jikaku Daishi built Amitabha hall by powerful family, cooperation of yasukyutsuiwasanro in 860 (Jogan 2), and Yoshiie Minamotono prays for the victory for Oshu subjugation late in the back, peace and tells when kansei did Yahata, Tsuruoka, Kamakura, but is not sure from the start.
There is main hall in court dance and music lord, the depths in the middle of triple tower, approach to a shrine of graceful figure, and, to the entrance left hand of stone pavement approach to a shrine mossed among trees growing thick, as for these three buildings, it is designated cultural assets of the prefecture.
For more details, from this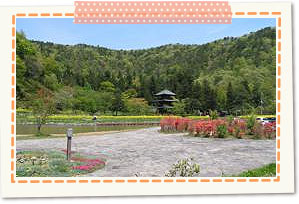 It is ten minutes by car
It is 45 minutes by bicycle
Kameoka Monju
Monju Kameoka is famous as one of Japanese three Bodhisattva of wisdom and intellect with Bodhisattva of wisdom and intellect of side door of Tango (Kyoto), Bodhisattva of wisdom and intellect of Abe of Yamato (Nara).
The left of Bodhisattva of Wisdom namely shaku* has Bodhisattva of wisdom and intellect temple and worships Bodhisattva controlling wisdom, and Godaisan is done with Jodo in China and is known as God of study to be said to be "the most wisdom from old days if three depend". Many people come in passing prayer such as entrance to school, test for employment.
For more details, from this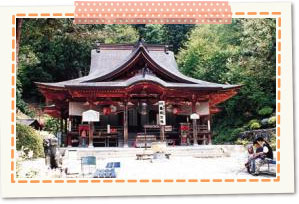 It is seven minutes by car
It is 25 minutes by bicycle
Takahata Winery
It is "winery which can enjoy sightseeing" founded in 1990.
We keep in mind to make the most of Takahata's regional characteristic while making wine by choosing a type of wine which would match best to the local grapes etc. We continue working on the making of grape of high quality with various places of contract cultivation and win many prizes in various contests. Other than wine sale in tenant ice-cream cone (alcohol less than 1%.using wine There are hot dogs which performed suspension of business) and gelato, local sausage maker and collaboration in the winter season and can enjoy.
For more details, from this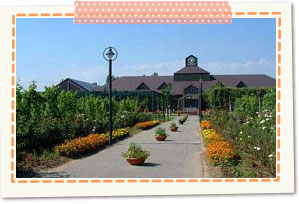 5 min by car
It is 15 minutes by bicycle
Yoneori Center
Yonezawa beef restaurant Yozan bower sightseeing center establishing. We prepare seasonal vegetables and fruit, Gifts in Yamagata Prefecture.
For more details, from this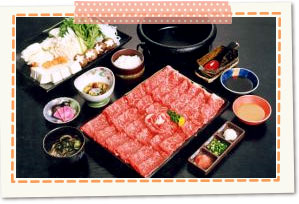 It is three minutes by car
It is ten minutes by bicycle
       Taiyo-kan (JR Takahata Station)
2014.01.06: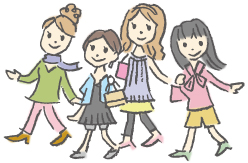 Sightseeing information search
Welcome to the Yamagata Prefecture