About catchwords
■Catch phrase "Yamagata Biyori. (Always a perfect day to visit Yamagata.) " (ideal day for Yamagata)



[about color of catch phrase]
Blue = rich natural
green = delicious farm products
orange = warm human empathy
We image climate
red = Sankurambo
bringing up tea = history culture
.

■Character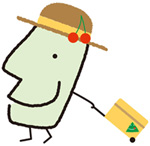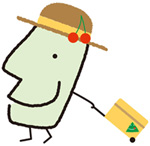 It is mo with form "face of person" of Yamagata Prefecture which it is easy to get close to clearly
Of person living in person, Yamagata visiting Yamagata to chief "faintly
We made figure which did this character.
Put straw hat with broach of Sankurambo, "pe
"Delicious Yamagata" with Lorin mark was clogged up closely
With trip bag, we enjoy trip to Yamagata.
 On May 22, 2013 than the Yamagata Prefecture governor "Yamagata Prefecture hospitality
Is entrusted chief, on December 3, 2014 "is popular Yamagata Prefecture
Section manager (follow) whom there is no on June 1, 2015 "Yamagata Prefecture
We promoted to service section manager.
[nickname] kitekerokun
[the designer] Reiko Kanno (we do, but appear and go) comes (Obanazawa-shi)
Koichi Inukai (there is dog Koichi) comes (Sagae-shi)
[naming reason] So that thought of citizens of Yamagata comes openly,
Using Yamagata dialect of meaning "that we will come" for,
We have by warm hospitality
We expressed feeling called this straight.
※Other than "kitekerokun" "kitekero" "kitekerocha"
nado, application ten using dialect called "kitekero"
There was (as for nine applicants).
[offer period] From January 21, 2013 to February 28, 2013
[the application situation] 3,693 application total number
[selection method] In the Yamagata destination campaign promotion meeting secretariat
After putting, and having performed trademark investigations,
The governor who was meeting chairperson was decided.
2013.01.21: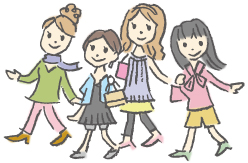 Sightseeing information search
Welcome to the Yamagata Prefecture