Yamagata easy guide
The Yamagata Prefecture is a natural treasure
The Yamagata Prefecture is located in the southwestern part of Tohoku. It occupies 2.5% of the country's
surface(9th biggest) and 72% of it's surface is
occupied by it's abundant forests.
Blessed by it's famous mountains such as Zao, Chokai, Nishi-Azuma or the Dewa San-zan (Mt. Haguro, Mt. Gassan, Mt. Yudonosan), Yamadera famous for its Basho haiku poem, the Mogami river and the abundant nature that changes from season to season.
It's agriculture is as prosperous as it's abundant nature. Rice, soba, Yonezawa beef, cherries, pears. Lately many people come to enjoy the serene nature and delicious food.
Also, in this prefecture where Hot spring water gushes out of every towns, villages and cities, surrounded by a valley, modern big Japanese hotels with many surrounding hot springs, hot springs close to the coastline, there is many different places and ways to enjoy the hot springs.
Along the Shinkansen railroad, you can enjoy many different tastes of soba noodles made with a lot of pride in a soba area called the "soba street". Also, you can come fruit picking throughout the year in Japan's number one and first cherry production area.
For further detailed information about the prefecture,
Please see
"profile of Yamagata Prefecture"
.
→
Profile (Yamagata prefectural government office site) of Yamagata Prefecture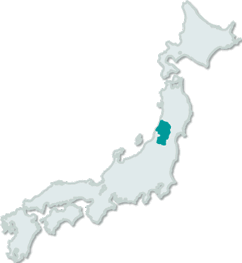 The 4 areas of the Yamagata Prefecture
The prefecture
is divided i
nto
4 big area :
the
Murayama dist
ric
t, the Oitama
district, the Shonai district and the Mogami district. They all have their own distinctive nature and culture that you can enjoy.
Also, y
ou can
have fun comparing the different Yamagata
dialect variations of every district.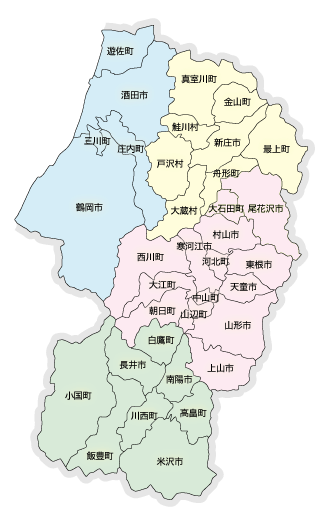 Nature of Yamagata Prefecture
In the Yamagata Prefecture, you can see many things from season to season.
Famous spot of cherry tree colors vividly
"in spring"
,
Prefectural flower safflower is in full glory
"in the summer"
.
Crop of the fields and contrast of colored leaves are beautiful
"in autumn"
,
Rare Juhyo tree (tree rime) pleases eyes
"in winter"
in the world.
■Beautiful mountains _______ which surrounds Yamagata
Mt. Chokai-san
which is named Dewa Fuji.
Zao
that was old, and was believed in as mountaineering asceticism ground.
visit of Dewa San-zan to depths,
Mt. Gassan, Mount Yudono, Mt. Haguro-san
.
100 famous mountains in Japan,
Mt. Ide
which sit astride Yamagata, Niigata, Fukushima.
■Beautiful river _______ which flows through Yamagata
Mother river,
Mogami River
which run through the prefecture.
Akagawa
who flows into the Sea of Japan while quenching Shonai plains.
Moonlight river
which was catapulted into fame in movie "okuribito."
Clear stream which assumes sacred mountain Mt. Gassan, Asahi Peaks water source,
Sogo Egawa
.
Please sense the four seasons of Yamagata Prefecture among rich nature bodily.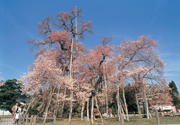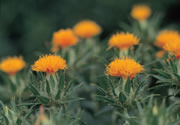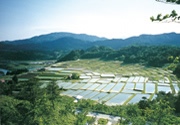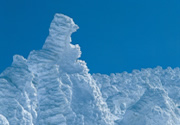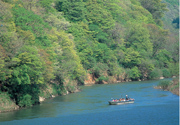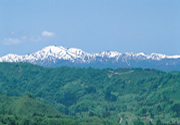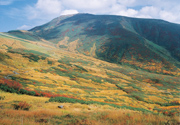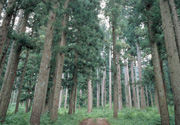 Hot springs of the Yamagata Prefecture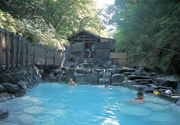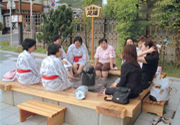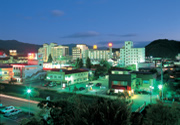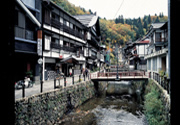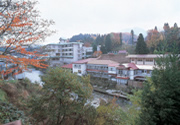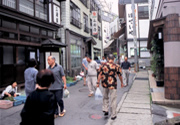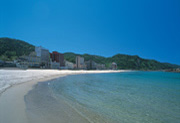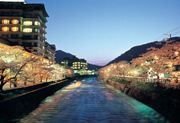 Food of the Yamagata Prefecture
Cherries
Fruit Sankurambo which represents Yamagata.
We are proud of the best amount of production in Japan.
Pears
It is characterized by mellow fragrance and fluent taste. Amount of production is number one in Japan.
Grapes
Yamagata Prefecture is amount of production of the whole country third place.
Wine of artefact is famous, too.
Soba noodles
Yamagata that is famous as soba restaurant.
There is noodle shop in various places throughout the prefecture.
Ramen
Yamagata-shi is city of the ramen consumption first place. Chilled ramen of Yamagata origin is recommended in the summer.
Yonezawa beef
Yonezawa beef which becomes known in the whole country. Mouth zawaridesu which melts away.
Wild plants
Yamagata is treasure house of wild plants. We are brought up under the snow, and soft wild plants grow.
Imoni
Autumn pastime that gives poetic charm is Imoni society.
As for this, it is local cuisine of Yamagata.
Rock comes
It is called milk of the sea, and rock of Shonai which is heavy, and has high nutritive value comes.
History of Yamagata Prefecture
Risshaku-ji Temple
Old historic temple which represents Tohoku that Jikaku Daishi does the open basis, and Basho Matsuo visited.
Uesugi-ke Byosho [Mausoleum of Uesugi Family]
Cemetery which is dedicated to ghost of person of Uesugi each generation feudal lord.
Hojin-no-Ie (old border agent's residence)
Old Ariji's residence house to be transmitted through when Basho Matsuo took accommodation.
Sankyo Soko [warehouse]
Agriculture warehouse which was built in 1893. It is still used regularly.
Ken Domon Museum
About 70,000 points of works of photographer, Ken Domon from Sakata-shi store, and they are displayed.
Haguro-san Five-storied Pagoda
National treasure that it is informed that we were founded by Masakado Taira. Tower where is oldest in Tohoku.
Mount Yudono Shrine
Okuno-in Temple of Dewa San-zan.
"Is it sleeve to get wet in bathroom which is not talked about?"
Zao skiing area
Skiing area proud of Tohoku's best scale.
We can see rare Juhyo tree (tree rime) in the world.
Kajo (park)
Castle trace of Prince Yoshiaki Mogami. Yamagata Castle ruins is famous as famous spot of cherry tree.
Festivals of Yamagata Prefecture
Flower shade Festival
In one of Tohoku 4 large Festival, dancer handles flower shade to leading.
Obanazawa Hanagasa Festival
The head family, floral sedge hat festival of Obanazawa to be said to be the floral sedge hat festival birthplace.
Murayama Tokunai Festival
Rhythm and dance that are up tempo are popularity, summer festivals of Murayama-shi.
Shinjyo Festival
Traditional Festival of Shinjyo that festival car (sea bream) which did heroic figure parades around town.
Human Japanese Chess
Festival of village Tendo of shogi which likens samurai to piece, and points at shogi.
Yonezawa Uesugi Festival
Big historical picture scroll representing Kawanakajima battle of Kenshin Uesugi and Shingen Takeda.
Chrysanthemum Festival
Splendid chrysanthemum Festival of Nanyo-shi with the best making of chrysanthemum and tradition in Japan.
Akagawa fireworks display
Fireworks display of Tsuruoka-shi coloring summer end vividly.
Yachi Hina Doll Festival
The Doll's Festival of Kahoku-cho to display hina doll which came by safflower trade.
2012.03.09: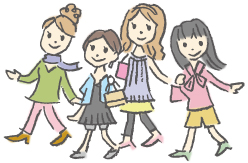 Sightseeing information search
Welcome to the Yamagata Prefecture