Let's become a master of cherry picking
Let's become a master of cherry picking 
Expert of Cherry
人
●●
Time of Cherry picking
Time of Cherry picking
Cherry picking of Yamagata,
Sightseeing orchard opens on about June 10 (the middle) in average year
"Sato Nishiki Cherry" reaches the
golden age of "Napoleon" in the beginning of July in the middle of June
.
(there is Farm which greenhouse Cherry picking can enjoy from the middle of April)
The Sankurambo cultivation area of Yamagata approximately 2,500ha (for 534 Tokyo Dome),
There are approximately 200 places of sightseeing orchards where there is Cherry picking in that,
Reservation is necessary depending on place,
On the day most Farm can go directly
.
In addition, because approximately 90% of Cherry Garden of the prefecture pitch rain-cover tent,
Other than the Sun which wind including typhoon is strong in, we
can enjoy Cherry picking in rainy Sun
.
As summer of Yamagata becomes hot,
When you do Cherry picking, come in done mobile clothes of adjustment.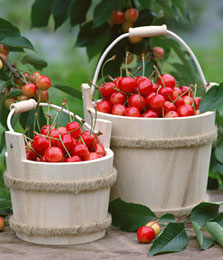 人
●●
Art of Cherry picking
Art of Cherry picking
While being careful not to take flowering sprout of the next year,
It is point to take in spite of being lifting on
every axis of Sankurambo
.
Fruit of Nikko on branch hitting well becomes ripe indulgently.
The whole Tsubu ripens red, and leather tension is good, and color shines gorgeously densely,
Axis will choose solid thing blue.
It is said to the number of leaves that thing of branch which had fruit less is sweet.
As we think that we pick off at each orchard and give simple advice before,
You hear the story well, and please enjoy Cherry picking.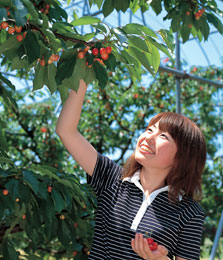 Sightseeing orchard information
2012.03.01: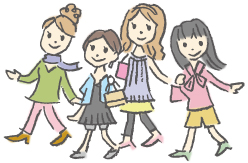 Sightseeing information search
Welcome to the Yamagata Prefecture