shunkatoko Fukuda-ya
しゅんかどころ ふくだや
Potato yokan which both adult and child love is popular
We sell a great variety of Japanese-Western style cakes which are most suitable for tea cake and present.
We can spend time leisurely in cafe space.
Popularity is potato yokan 120 yen of simple taste and liquor jelly 200 yen using local sake of local Daisen, Tsuruoka-shi district.
Canule de Bordeaux 180 yen of Saturday and Sunday limited sale is popular, too.
Can taste newly made crunchy taste to fill with cream after getting order; "is accompanied, and mountain Shoo is recommended, too".
Information
■

Name

shunkatokofukudenoku

■

Location Daisen, Tsuruoka-shi character moderation 139-21


■

Phone number

0235-33-2229

■

Business Hours

From 9:00 to 19:00

■

Closed On Wednesdays


■

Access It is car eight minutes from car 16 minutes, Tsuruoka IC from JR Tsuruoka Station


■

Parking lot Seven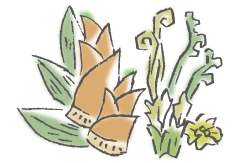 Welcome to the Yamagata Prefecture
Yamagata Weather Forecast