Yokocho Tofu Shop, Mogami River Sembon Dango
よこちょうとうふてん・もがみがわせんぼんだんご
"Mogami-gawa Sembon Dango" is the Oishida Dango (rice dumpling) made by McCoy Tofu shop.
Oishida is located in the midstream of Mogami-gawa River, hot climate in the summer, rich in harvest in the autumn and heavy snow in the winter, so the spring is indescribably special.
"Sembon Dango" is made with the rice harvested in the region with distinct four seasons. The rice, which is of course delicious just to eat as regular steamed rice, is transformed into the dumplings.
Information
■

Name

Yokocho Tofu Shop, Mogami River Sembon Dango

■

Location

Oishida-machi, Kitamurayama-gun larger section of a village Oishida second 76

■

Phone number

0237-35-2312 (reservation: 0120-15-2312)

■

FAX number

0237-36-1630

■

Business Hours From 8:30 to 18:30
(as for from December to February from 8:30 to 18:00)

■

Access [car]
Is car towards the north at Route 13 than Yamagata-shi; one hour
Is car than Route 347; five minutes
[train]
Walk by car towards Mogami River from Oishida Station three minutes; and 15 minutes

■

Contact information

Yokocho Tofu Shop, Mogami River Sembon Dango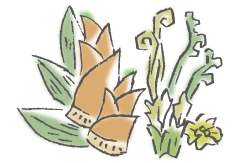 Welcome to the Yamagata Prefecture
Yamagata Weather Forecast