3 most dangerous spots in Mogami River (river rafting) side way
もがみがわさんなんしょそばかいどう
Taste of side that great Mogami River brought up
Murayama-shi where is lined with a lot of noodle shops along flow of Mogami River.
After having done rice-transplanting and inekari rinadono farming in great numbers in this area with many farmhouses from old days, it is said that we met stomach by "side behavior" to appreciate.
We cooked soba before in house of any place, and everybody ate side all together.

Side way inherited the tradition and began to have many people eat soba handed down to Murayama.
We name the distance of 15km that noodle shop links the eaves in 1994 "3 most dangerous spots in Mogami River (river rafting) side way" and hold Festival and Events as village, Murayama-shi that can eat delicious soba and we raise city to have you get close near and wrestle.
Information
■

Name

3 most dangerous spots in Mogami River (river rafting) side way

■

Location

1-3-6, Chuo, Murayama-shi

■

Phone number

0237-55-2111

■

Contact information

Murayama-shi Shoko Kanko-ka [Commerce and Tourism Division]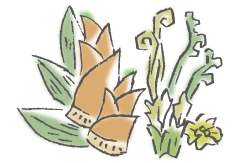 Welcome to the Yamagata Prefecture
Yamagata Weather Forecast