Nakayama-machi information, product building ○ tto
なかやままちじょうほう・ぶっさんかん まるっと
There are pickle or cake which mothers of farming family cooked unless local vegetables and fruit are put as direct marketing. There are plum wine and Himawari (cookies) daughter who are popular among Gifts.
Preparations for Imoni society set are OK in season of Imoni society, too!
Furthermore, soba and ramen to cook in shop are exquisite!
Information
■

Name

Nakayama-machi information, product building ○ tto

■

Location

1, Izumi, Nakayama-machi, Higashimurayama-gun, Yamagata

■

Phone number

023-674-0575

■

Business Hours From 9:00 to 19:00 (the summer: for from March to November)
From 9:00 to 18:00 (the winter season: for from December to February)

■

Closed

Every week third Monday (in the case of festival day the next day)

■

Remarks

Imoni society ramen (about September ~ about March)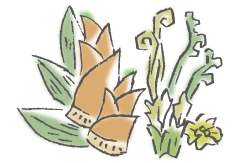 Welcome to the Yamagata Prefecture
Yamagata Weather Forecast