Eel Wakabayashi
うなぎ わかばやし
Local sake, local fish prepare various to be able to taste the four seasons when Shonai is rich with tongue and eyes.
Rice uses Shonai product sasanishikino new rice.
We fully use traditional sauce which we put out for noren than we do not let you give Yamagata-shi and load and bake sauce to use for eel of drawing card menu by charcoal fire plumply.
We prepare rare fish to be able to taste only in local Shonai abundantly.
We think whether cherry tree masuno oshi-zushi stays good, and you would enjoy boiled greens with dressing, Moso-jiru, natural rock kid, Dadacha-mame, Nanzen-ji Temple tofu, Natto-jiru, chrysanthemum pickled in Atsumi kabu, seasonal Shonai dishes including Dongara-jiru of cod.
But please be careful in storekeeper coming to prattle on when you talk about the native district history.
It is a 3-minute walk from Tsuruoka Station. It is said that it is foot holiday of sightseeing, and please stop by.
Information
■

Name

Eel Wakabayashi

■

Location

11-9, Suehiromachi, Tsuruoka-shi

■

Phone number

0235-24-3701

■

Business Hours

From 11:30 to 23:30

■

Closed

No fixed holiday

■

Access

From JR Tsuruoka Station a 3-minute walk

■

Parking lot

Six

■

Contact information

Eel Wakabayashi

■

Remarks Representative menu: Local fish Courses /\2,500 (tax-excluded), 3,000 yen (tax-excluded) to entrust you
Offer time of representative menu: Whole year
The number of seats: 46 seats (eight seats of tables, room 20.8 seats)
The opening of business: 1977
Having reservation or not: Unnecessary
[Last updated] March 17, 2014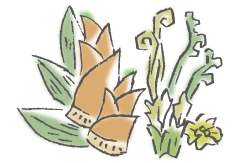 Welcome to the Yamagata Prefecture
Yamagata Weather Forecast